zero waste white asparagus soup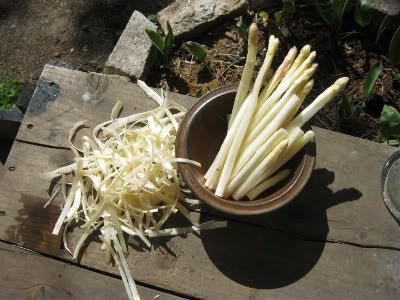 It's summer. The air is hot and sticky, and the daylight stretches out like a cat until it's almost ten o'clock. It is not the time of year for hot soups. Yet it is the time of year for asparagus, and one of my favorite asparagus dishes is spargel suppe mit fladle, which is Swabian (Schwäbisch) for asparagus soup with strips of pancake. It's delicious (I'm spooning down my third bowl between sentences), and it's a recipe that was born of a desire not to waste a single ounce of a vegetable you'll only see once a year. So when the Beard proposed making it, I interrogated him on his methods so that I could share the recipe with you.
In America, I was used to eating green asparagus, and it wasn't until I moved to Germany that I was introduced to its albino cousin. As white asparagus is grown underground to prevent it from taking on any color, it also develops a slightly woody peel that needs to be removed (by potato peeler or knife) before cooking and inhaling. Which is a big frickin' waste, if you love asparagus and want to get the most out of the fruits of a relatively short growing season. (And in Germany the only place you're going to find asparagus once the season is over is looking pale and sickly in a glass. This is a country that takes seasonality seriously. Or at least more seriously than America.)
This simple recipe uses the asparagus peels to create a broth that you then fill with bits of asparagus, spices, and strips of pancake. Though you do need to throw the peels away after the first step, you can be sure you've gotten just about all the nutrients out of them first. So without further rambling, here is the recipe:
Ingredients:
white asparagus
water
oil or fat of whatever sort you have around
spices (salt, pepper, parsley, and whatever else you have around)
Step one. Peel your (white) asparagus. Places the peels in your soup pot, and the peeled bodies in a bowl or pot of cold water so they don't dry out before you need them. Fill your soup pot of peels with water and bring to a boil. Turn off heat and let soak for as long as you have the time to wait. The longer the brew soaks, the more flavor you'll have in the broth. A half an hour will do if you're pressed for time.
Step two. Filter out the asparagus peels with a colander spoon, and throw them on the compost. Cut up peeled asparagus bodies and place in broth, along with a few tablespoons of the fat of your choice. Bring to a boil again, adding seasoning to taste (the Beard used salt, pepper, and parsley).
Step three. Make pancakes. Roll up pancakes and slice into thin strips. Add strips of pancake to the soup once served.
The finished product looks something like this: