why hello there (new wagen on the platz)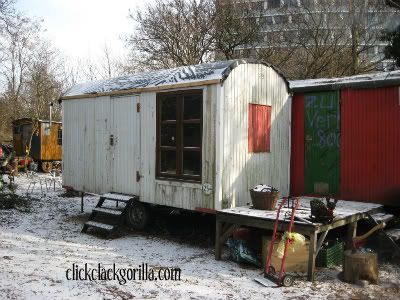 One of my Platz-mates decided he needed a bit more space. As luck would have it, another friend of ours had a little Bauwagen that she wanted to get rid of. They hauled it here from Limburg with a truck, and here it sits, waiting for payday so renovations can begin. The good news is that I might even get to photograph the process so you'll finally get to see the tiny house handiwork of someone besides me. And look! Snow!
In the continued name of making winter cheerful, here is another good mood anthem for us all this morning. The ukelele is an excellent good mood instrument. Happy tunes plus snow plus midler tempuratures plus the first birth prep class with the Beard this evening might just equal an end to winter doldrums.