why dumpster find of the week?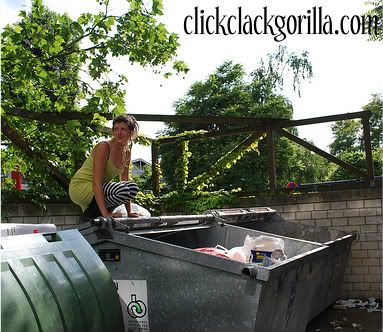 I posted the first "dumpster find of the week" blog in March of last year. What started as a post to show off a mother load of old wooden boxes that we had found (that I later turned into Frankenshed) became the (almost) weekly series that you know, and maybe even love.
But why bother? Why parade random objects before your eyes on a weekly basis? I've never stopped to explain the whys and wherefores, and I thought, well, no time like the present. With all this parading of objects, it seemed like it might be easy to get the wrong idea, the idea that this whole dumpster diving thing is more about materialism than anything else. And it is about objects in so far as dumpsters are full of objects that can help you out. But! Lo! It is so much more.
I show you pictures of dumpster dived objects every week because I want you to know what it is possible to find in the trash. I want you—whoever you are, however you live, and whatever you do with your time—to know that almost everything you need can be obtained without money. I want you to know that the silver lining to the dark cloud of living in an incredibly wasteful time and place is that you can feed yourself, clothe yourself, and shelter yourself by dumpster diving and scavenging, that even if society has disowned you or pushed you right over the edge you can live like a queen on the scraps.
I want you to know that you could work less if you satisfied some of your material needs and desires through objects scavenged rather than purchased. And I really, really want everyone to know that dumpster diving and trash picking are nothing to ever be ashamed about or embarassed of. Don't wrinkle your nose at the lady rooting through the trash. That lady is you in another set of circumstances.
One of my favorite quotes on the subject of dumpster diving comes from the CrimethInc book Recipes for Disaster. "Burdens lift and scarcity is averted when the mountains of trash produced by this insane society become supplies and sustenance. Everything that sucks about capitalism is inverted when the dumpster diver scores. Poverty becomes abundance. Loss becomes gain. Despair becomes hope." Glory glory hallelujah.
Photo © T. Holste