while we're on the subject of bottles: philadelphia's magic gardens
When the Beard and I were in America last fall, we spent a couple of days stuck in Philadelphia. Saved from ruin by the kindness of an old high school buddy, we had a place to stay, and a few days to fill with city wandering. Those wanderings inevitably brought us to South Street, which then brought us to the Magic Gardens.
Though I'll admit that most of the time I've spent in Philly has involved racing wheely chairs up and down university hallways while waiting for my dad to finish teaching—that is to say, I haven't gotten out much—I would give the Magic Gardens the prestigious title of Nikki's Number One All Time Favorite Tourist Spot in the Whole City. Despite my lack of gorilla experience in the city, having been brouht there on numerous class field trips throughout my school years, I can say with certainty that the Magic Gardens are a thousand times more interesting than the Betsy Ross House and the crack in the Liberty Bell.
You see, the Magic Gardens aren't actually gardens at all, but a sculptural experience the size of the (once) empty house lot on which they were built by artist Isaiah Zagar. Let me tell you, this man knows how to make a dazzling mural. He also knows how to build walls out of old bottles, bike tires, and other shiny miscellanea. Really, words can only sum it up as such: the place is fucking insane. And amazing. The kind of place where you could spend days just staring at the walls.
On the side of a completely normal looking street, you find this: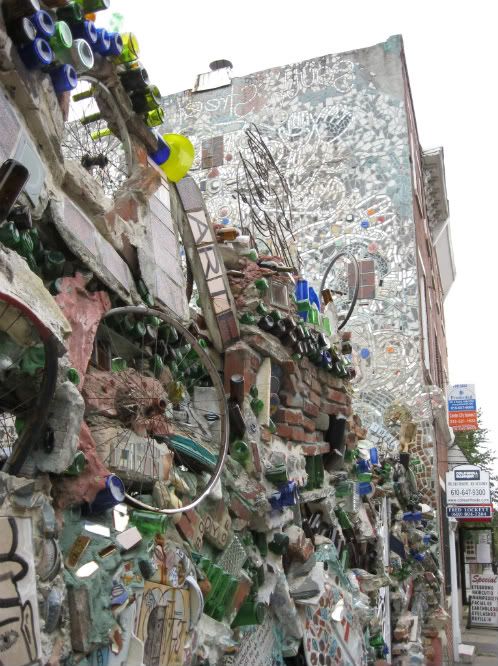 Peering through the metal gate, you get a glimpse of the labyrinthine madness that awaits you inside: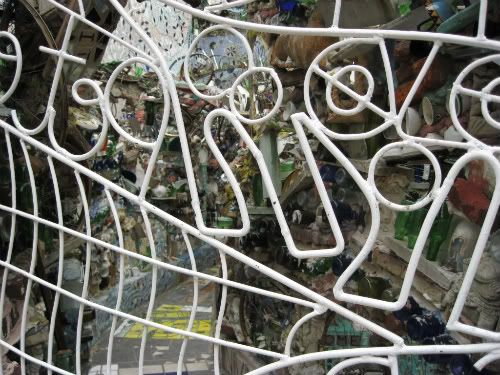 I was happy to pay the five dollar admission fee. Did you ever see the movie Nothing But Trouble with John Candy and Chevi Chase and Demi Moore? Well, this is like the set of that movie, but friendly. And tell you what, the set of that movie is about the only reason it's worth watching, but it is such a good reason that I actually own a copy. But I digress.
The story of the Magic Gardens goes something like this: "Zagar started working on the Magic Gardens in 1994 in the vacant lot nearby his studio. He began by constructing a massive fence to protect the area from harm and then spent the next fourteen years excavating tunnels and grottos, sculpting multi-layered walls, and tiling and grouting the 3,000 square foot space."
In 2002 the owner of said not-so-vacant-anymore lot noticed that property values on South Street were rising and decided to sell. And in one of those touching "and then the neighborhood came together and won out in the face of real estate speculation" stories, the folks who appreciated Zagar's work did just that and became a non-profit organization so that anyone who wanted to could come by and give Zagar's work a good thorough ogle.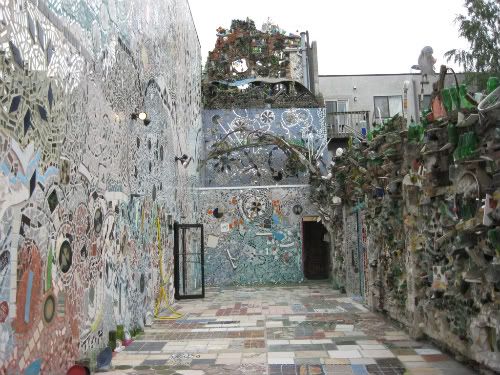 Below is a view from inside the lot looking back out onto the normal buildings across the street.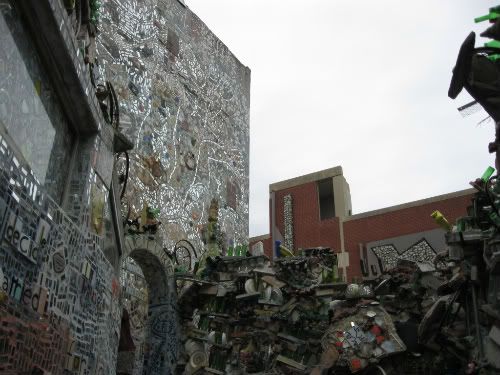 Into the labyrinth…
Down the stairs to the grotto and through one of the little tunnels…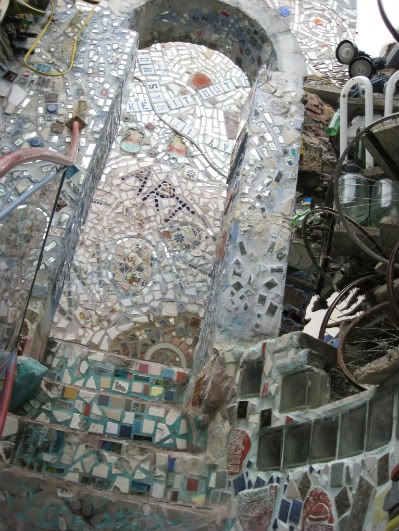 This is recycling for the kind of apocalypse I would very much like to be a part of. Maybe someday I'll have a little piece of wooded land on which I, too, can build creepy trash-n-bottle labyrinths into which I can send all my writer's block to shrivel and perish.