while we're looking at old photos…a little tiny house nostalgia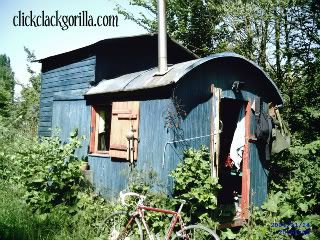 The very first tiny house I ever inhabited. All thanks to encouragement from a friend at just the right moment.  Here you can read about how I decided to move into this adorable blue shoe.  Oh, and if you're wondering what the hell a Wagenplatz is, I explain it in detail here and here.  (Hint: It is an autonomous community of people living in various small houses, "common" to Germany.)
My second tiny Wagen was in a different community in a different city.  I shared it with my partner.  (Still do, as a matter of fact, though now there are three of us living between these red walls):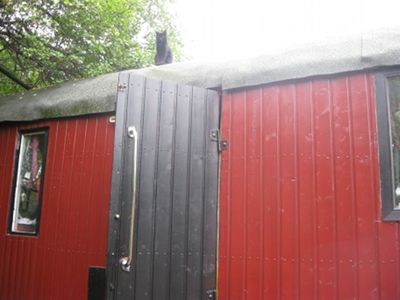 Some black cats are good luck. Though be wary if you catch them drinking vodka.
After a while, I was offered this Wagen for free (the one with the black door in the picture below). I took it and spent about a year renovating it (and learning everything about building from scratch while doing it).
It looked quite different when I started. For one it was green. But you can read about the entire refab process here.  (Pictures too.)
Then we moved to another city, they very same where my tiny house adventures had begun, but to a different community.  And we bought a third Wagen that I am planning on Frankensteining onto the red Wagen, our main living Wagen, this summer.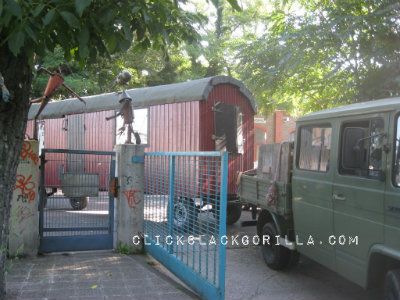 And now, I can barely even fathom even living in a house again.  Although I sometimes do dream about little cabins in the woods. Sweet, sweet, summer tiny house life.
Oh, and if you're coming over after having watched Deek's Tiny Yellow House feature on my little house, then by all means, subscribe to the rss feed.  Come back soon now.