wherein patrick rothfuss is witty and charming and epic (wfc 2013 part 3)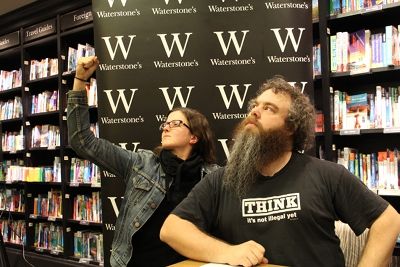 Waterstones.  The name has a nice ring to it, doesn't it?  I had imagined a small, intimate indie book store like so many others I had seen in Brighton both online and off since that morning.  Well, now you have proof that I am not British.  If I was, I would have known that Waterstones is a big bookstore chain like Barnes and Noble and (RIP) Borders.  But even those are a rare treat in the age of amazon.
Patrick Rothfuss had announced the reading on his blog the previous week.  He would be reading at the World Fantasy Convention too, but the WFC has three panel discussions and two readings happening at any given moment.  If I saw him Thursday night off-site, I wouldn't have to decide between seeing him or Terry Prachett on Friday afternoon.  As if that is even a choice.
Still, I almost didn't go.  I almost choose a long wait in the rain in front of an empty apartment (see Wherein My Couchsurfing Host Fucks Me Over).  I had called Waterstones the week before to reserve a seat at the reading and been told that I was number twenty-something on the waiting list.  I couldn't imagine who would miss an event with Patrick Rothfuss, who would even consider ditching and leaving a seat free for me and the twenty people waiting in front of me.  I secretly hoped they would let us all in out of the goodness of their papery hearts.  I hoped and hoped and hoped, and then I got on a bus.  Who wants to sit outside of an empty apartment in the rain?
There were two others waiting outside.  Are you on the waiting list too? I asked.  Nope.  We just hoped they would let us in anyway.  They did.  They did!  Because not only did almost ten people with reserved seats not show up, the twenty-something people before me on the waiting list didn't show up.  It turns out that Brighton is one of those cities where people talk a lot of cool and dress a lot of cool but never ever show up for events.  (Said some locals who I met later.)  And for once I was really really glad.
We climbed three flights of stairs to find Rothfuss standing in front of about thirty people mid-sentence.  The walls were lined with dark-wood shelving and panels and books.  A coffee bar lay in shadow on the far side of the store, beyond tables stacked with more books.  Waterstones employees in Halloween costumes leaned against the sales counter at the back of the room, listening, and copies of Rothfuss' first two books lined the walls, waiting.  I pushed my luggage beneath a table and found a seat in the middle of the audience.
Now listen, I really like Patrick Rothfuss.  His first novel, The Name of the Wind
, came highly recommended by the same people who had told me I would love Perdido Street Station
and The Lies of Locke Lamora
.  The Name of the Wind really impressed me.  Not only was it beautifully written, the story expertly woven into a multi-dimensional wonder, it had feminist elements that the fantasy genre at large is starved for.  Here were dudes in a fantasy book discussing the existence of male privilege.  It is the kind of thing you might not even notice is missing in a book until it shows up right in front of you, loud and waving its hands and shouting.
Despite the very feminist- and woman-friendly impression I got from The Name of the Wind (I have yet to read the sequel, The Wise Man's Fear
), despite the fact that Rothfuss identifies as a feminist loudly, enthusiastically, and intelligently, there has been some controversy about him actually being, well, the opposite of all that.  I have read some of the analysis, and now I have heard him talk about it.  What I gather is this: Rothfuss may have said some stupid shit and that shit may have in turn been interpreted pessimistically.  Mind you, I say this without having read more than two blog posts on the subject.  At the same time, I am ready to forgive what I understand to be his slip ups because of the way he presents himself, the way he actively addresses these issues.  It makes me happy to see white dudes, ie the people with the most power in this shit system of ours, questioning their own place of privilege and using it as a platform to talk to a lot of people about feminist issues.  He is trying to do and say things that I think are important, and he is doing it well.  If he fucks up once in a while, I'm ok with that.  It is often people's imperfections and mistakes that endear them to me.  Cod knows I've made and have enough of my own.
The "reading" was an hour and a half of questions and answers and a few quick minutes of reading to punctuate the ten minutes between questions and book signing.  Rothfuss was witty and charming.  I don't remember a lot of the details of the evening, and considering his concern for a bit of mum on more than a few subjects, it is probably better that I don't.  What he read needed a preface besides: It was a story about a woman, a mother, but a woman who is not defined by her motherhood.  Her kids are not the end of her story, but punctuation in the sentence that is her life.  The kids go off into the world, and she goes on to have more adventures.  I can't wait until it is finished.  The world needs more stories like that one.  Mothers need more stories like that one.  I need more stories like that one.*
When he was finished talking, he retired to the signing table, and the audience moved from chair to line, books clutched to chests, eyes sparkling.  Rothfuss signed every book put in front of him, took a picture with everyone who had a camera.  One woman had flown in from Germany just for this event.  Another turned out to be a talented singer who I chatted with about lyric and song writing.  (Thanks for taking my favorite pictures of the entire weekend, Moina!)
Rothfuss dedicated my copy of The Name of the Wind to the Beard and I, and I was able to tell him—no stuttering—that he had written the best fiddle-based insult of all time (because The Name of the Wind not only has fantasy and really interesting science-based magic and gritty cities and a wizard's university and jesus just fucking everything, it has musicians and performances and did I mention that it is fucking wonderful?)  I tucked my signed book back into my bag and pulled my suitcase back out into the rainy night.  Yeah, so what if I didn't have a place to sleep?  It was only 10 o'clock, it was Halloween, and the city was full of people obsessed with the same books I love, with the authors of those books.  I pulled up my hood and set off into the night, suitcase trailing behind me.
*I want to note that what we need MOST of all is voices from what are now "the margins" telling these stories, but I am glad of anyone and everyone who is telling these stories.  I want people of every stripe telling these stories.  I want feminism to become a thing of the past because we have so thoroughly acheived equality for every person of every gender that no one can even believe it was once an issue that had to be fought over and for nail and tooth.  But in order to make that happen, we need everyone.  End note.