wherein china mieville makes me sad and neil gaiman makes me happy (wfc 2013 part 6)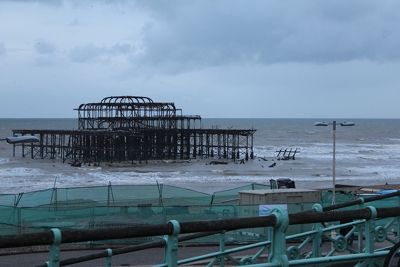 China Mieville. His name on the program was the reason I had initially decided to attend World Fantasy. Then his name disappeared from the program. Had it all been a cruelly realistic dream? A dream that had resulted in tickets purchased and charges to my credit card? At the airport at 5 am I scrolled through the convention website and found the communique explaining his sudden absence (which actually explained nothing at all, where were you China?!?). Which was also when I found out that Neil Gaiman would be replacing him as Master of Ceremonies. Huh. Now there is a substitution I can live with.
Every morning I walked past the ruin pictured above on the walk betwenn my sleeping hotel and the con hotel.  It made me think of China—it would fit right in on Armada, give or take 500 other skeletal vessels lashed to its sides.  If you haven't read it yet, I really can't recommend Perdido Street Station
enough (or The Scar
, which is what this ruin made me think of).  Neil Gaiman was probably the only author that could have softened the blow of his absence.
I fell in love with Gaiman's work when I fell in love with Neverwhere
, a book about an alternative world in underground London, given to me just after my first trip to the city in 2005.  I read Sandman as part of a class on Literature of the Fantastic during college.  And I've read everything else he's written (excluding the comics and his first book, which was a biography of Duran Duran that apparently sells for 10,000 pounds these days).  American Gods
and The Graveyard Book
eventually vied with Neverwhere as my favorite.  The Ocean at the End of the Lane was the scariest book I read this year.  His worlds and his words are dark and magical and enthralling.  Not to mention that he is a charming, well-spoken human who is married to the force that is Amanda Palmer
.  He's become a cult-figure in his own right, and now I was—surprise! wohoo!—going to get to see him speak, was going to run straight into him coming out of the door of the hotel one evening, was going to get used to just seeing around.  And the people rejoiced.
I arrived at the convention hotel early on Friday morning, prodded out of bed by my own excitment, jittery with coffee from the all-you-can-eat English breakfast that would become my daily morning routine.  I hadn't planned on attending the Joanne Harris interview, but I was glad I did.  She's written a lot more than Chocolat
, you know (don't worry, I didn't).  She was a joy to listen to, and attending her panel meant that I had secured a front-row seat for the conversation between Neil Gaiman and Jo Fletcher which would follow.  Not that I needed to fight the crowds; apparently the changes to the program had gone unnoticed or (and!) the hour was still too early—the room was barely a quarter full.
I didn't take many notes during their talk—it was more fun to sit back and absorb every word—except for one quote.  "You can just do so much if you don't know the rules."  (Amen.)  They chatted—old friends—about the start of Gaiman's career, about the last time they had attended a World Con in this very same hotel, about making sure you at least make your hotel bed look sleeped in so that the management don't sell your room to someone else.  I'm hard pressed to imagine what could make a day better than seeing Neil Gaiman and Joanne Harris speak (Jo Fletcher is a publisher and is quite interesting as well, though I hadn't known anything about her at the time), and yet that was only the beginning.