wherein an e-book reading experiment is conducted
At the very bottom of my website you will find a small, hand-drawn picture of a pile of books.  "I pledge to read the printed word," it says.  And I do, oh how I do.  But e-books are out there.  They are in the news ("Is this the end of publishing/bookstores/reading?!"), and they are in people's hands on the train via futuristic little devices that always make me think about how this is the future that science fiction authors didn't see coming, blinded by larger devices (time machines and hover craft) as they were.  I wanted a taste, to have an informed opinion, to not just hate them on some sort of made-up principle.  So I read an e-book.  Then I read two more.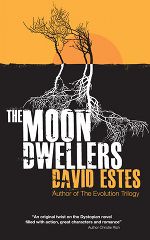 The Moondwellers by David Estes
I am, perhaps predictably, a member of a post-apocalyptic book group on Goodreads.  When David Estes offered a free copy of his (e)book to folks in the group in exchange for an honest review, I decided that the time had come to try e-reading.  Oh dear.  Not having an e-reading device, I read it on my computer, which was not ideal, but hell, I read a lot on my computer as it is, so why not?
Reading, I found myself having trouble taking Moondwellers seriously.  How much of this was due to the writing (which was passable, but lacking) and how much of this was due to the format?  Every great book I have ever read has been printed on paper.  This is a coincidence of my time, but it plays a huge role in how I perceive e-books.  If I had read the classics on my computer or on a Kindle, all my favorite books, would I feel the same?  Would the medium take away from the work's beauty if I associated it with both wonderful and terrible writing?  I wasn't sure, but guessed that, after a couple of positive experiences I would be able to shake the feeling that I was reading a draft.
As for Moondwellers itself, I didn't like it.  E-book or not, it was…drafty.  It attempts to use a teenage voice in a way that I found unconvincing.  The story was compelling, the setting and situation interesting, but the telling was not well executed.  One of the main characters (the story is told from two perspectives, one male, one female) was an arrogant idiot who I couldn't stand.  And there was far too much groan-worthy cheese.  But as I don't like to write book reviews about things I wouldn't recommend (what is the point of wasting my words and your time when a simple "don't read it" would suffice?), I won't say anything more about it.  May folks who enjoy this sort of thing—and I think there are plenty—get their hands on it and may David Estes live happily ever after.  The end.
Whore Diaries: My First Two Weeks as an Escort by Tara Burns
I undertook my second e-book experiment when internet friend Tara Burns published Whore Diaries.  I have loved reading her subscription blog for years—she is a great writer and she has a hell of a story to tell—and I can say the same of her first e-book.  Her take on escorting is philosophical and unorthodox.  The Tao of Tara.  She begins with "Conversations With God in the Titty Bar," and ends far, far too soon.  Write a longer book next time, huh Tara?  Then again, business master mind that she is, she might just prepping readers for the longer book to come.  I certainly hope so.
Reading Whore Diaries began to raise my opinion of e-books, as did the experience of reading on my phone on the train instead of at my computer at home.  The convenience of having several books with me wherever I go in such a small package is seductive.  I was starting to like e-books.  Looking back, I realized that I had had trouble taking Moondwellers seriously because of the quality of the writing.  I was warming up to e-reading.  I couldn't, still can't, fucking believe it.
Ten Thousand Miles by Freight Train by Carrot Quinn
Three times a charm.  And how.  My third experiment involved reading Ten Thousand Miles by Freight Train by Carrot Quinn who I'd known through her blog and mutual friends for years, but have never met.  She's an excellent writer of the Annie Dillard school, and her prose has come a long way since she first started telling her train hopping tales on the internets.  Her recent post about How to Be Poor is the most wonderful thing I've read on the subject in a long, long time.  (Maybe ever?  My memory is not whole enough to say for sure.  If you are thinking about quitting your job, this is on the syllabus.)
The main downside to e-booking so far, has come at review time.  I enjoy reading on my phone.  I enjoy the convenience of always having a couple of books with me, but I haven't gotten the hang of marking passages yet.  This, in combination with the format, means that, come review time, I can't sit down to thumb through it again, letting my eyes find passages of interest a second time, helping me sum up the experience in words.  Scrolling just doesn't do it for me, and my eyes are less likely to stick somewhere relevant on a screen.  But!  The find feature!  Because of the find feature I can share my favorite metaphor—and Carrot is quite good with metaphors—in the entire book, can give you a tasty little morsel to get you ready for a delectable meal.
She is describing hitch hiking, and the way that the people who pick you up tend to spill their life stories.  Why do they do this?  "Talking to you is like stuffing a note into a bottle and tossing it into the sea."  Brilliant.
and beyond
It was around this time that I discovered a number of sources of free e-books.  Books that I would have liked to have taken out of the library, that weren't in the library here, but that I had no intention of buying are now in my phone.  This is incredibly exciting, and I am catching up on all the books I have been listening to people chat about, but didn't have library access to, for the past several years. And I am finding myself e-reading more and more often.  On the train (no book to forget or lug around in my already full-of-baby-crap bag).  In bed at night (no need to turn on the light and disturb Pickles and the Beard, as the phone creates its own light).  In line everywhere (since my phone is always with me, I always have about thirty books on hand, which is just fucking great, particularly for that moment when you finish a book unexpectedly but didn't think to bring a second read).  I can't imagine buying a Kindle or similar device—it would negate many of the positives that have convinced me—but reading on my phone (whose identity has stretched from just phone to phone, book, computer, dictionary, notepad, mp3 player, stereo, and game console) has been a very positive experience.
Thanks to a stupid little piece of metal and plastic I am able to read more voraciously than ever, to use every single stolen second to indulge in a few more sentences.  It has happened.  I am an e-book convert, though my religion remains dualistic.  E-books and paper books—there is room for them both, it seems.  (But don't forget that YOU are the tide on which your local bookstore rises and falls, so support them with hot cash!  If we want to keep both paper and e-books in our world, we're going to have to show it.)  Now if people would just stop attacking the library system…