what i love about winter
The moment that snow starts falling my head fills with cheesey songs about snow from lifetimes past. Christmas songs, songs I've sung in choirs—they all begin to play on repeat (or the tiny chunks of them I can still remember) on cue with a coating of white.
Snow and wet winters always propel my appreciation for warm, comfortable, water-proof winter shoes into over drive. What luxury! What comfort! If industrial civilization ever really does collapse, I'll be the one looting at the shoe store. (Afterwards you'll probably be able to find me at the seed store. And then maybe the outdoor supply store, if it hasn't been picked clean by then.)
It feels like I take the same set of pictures every year after the first snow, but with so many Wägen are in new places and so many readers I thought, what the hell, I'll post a few more.
The view from our bedside window:

I dug out my winter boots for the first time this season, and headed outside—this is the view from the door:

My Wagen: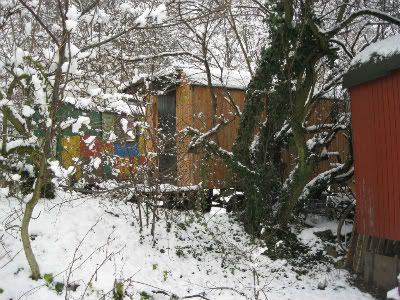 Our neighbor across the way: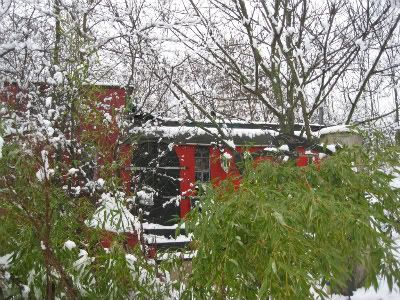 Our sleeping Wagen where I spend almost all of my time these days:

The ping pong table:

The compost heap:

Have you had any snow yet?