we're not in rüsselsheim anymore toto
After having dragged you all along on this year-long renovation experiment, it seems only fair to share the bounty. I am a bit late to the start, and I have been chagrined by your pleas for photographic evidence. You see, I am plagued with a streak of neurotic perfectionism that greatly contradicts my general fondness for chaos, and I have been scrambling over unfinished, unimportant details in order to make trash house (as I fondly like to call my mostly scavenged diy masterpiece) all the more shiny and spectacular for you before removing her virtual veil.
Frankly, I am astounded that I'm really finished—well, finished enough to be sleeping in trash house, lighting the wood stove in trash house, and gazing around the room looking at the physical reality of what I've been imagining for over a year. Technically I'm not really finished—someday soon the pleas of my frozen feet will be too loud to ignore and I will insulate the floor—but as far as daily life goes, trash house is ready to have a bottle of champagne smashed against her snow-bobbled buttocks.
So, though I find her innards more attractive in the detailed photos I posted yesterday as a preview, here are some before-and-after pictures for your consideration. May they astound you the way that comparing my memories of the last year to the present astounds me.
once upon a wagon…
When I first got trash house home from Rüsselsheim after digging her out of the garden where she'd spent the last 20 years she looked like this: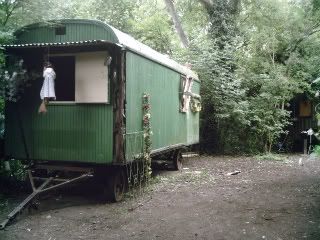 My very own sleeping beauty, given to me for zero euro because sometimes people would rather just be rid of something than to do the work of taking it with them when they move. My first task was to insulate the walls. Below you'll find her stripped and defiled some months later:
And today, parked in a new spot, covered in snow, and bedecked with a wind chime from the beloved Mr. and Mrs. Sprinkles: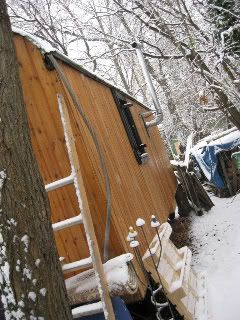 The siding in the pictures above was born of an ex-ceiling from the Beard's mother's house. The hose carries water from the rain gutter and into the rain barrel that will make watering my garden next summer exponentially easier. The hose is from the trash, the barrel is from the trash, the ladder, the candle holder, trash, trash, trash, etc, usw, et. al.
In the picture below you can see the one side I managed to cover with the original boards (only one side's worth of boards survived the crow bar's wrath and my impatience), and the end I sided with boards from Natasha's ex-ceiling. Most of them were kind of fucked, so next summer will probably see another brief re-siding project. My neurotic side wishes that all four sides looked exactly the same, but since I usually don't have to look at them all at once, and I like having saved some of those purdy original boards, my neurosis' twitchy pleas for further symmetry remain quiet enough to ignore.
And, lo!, please note the glass that graces the bed-side window. Oo la la.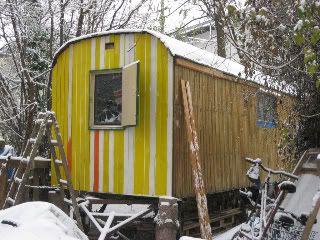 So friends, you've seen the ads, now let's take a look inside.
First, the climatic before photo. Summer 2009: shortly after hauling trash house home from Rüsselsheim, I filled her innards with huge Styrofoam bits that I intended to slice into insulation-sized pieces. Those blocks ended up back in the trash where I'd found them after I discovered that cutting Styrofoam is a big messy, pain in the arse. Many other objects have come from (and gone back to) the trash since. I even made 40 euros selling what it turned out I didn't need at the flea market for 50 cents a pop.
Note the small window to your right, the unpleasantly bland wall and ceiling color, and the cardboard-brown color of the floor for future comparison: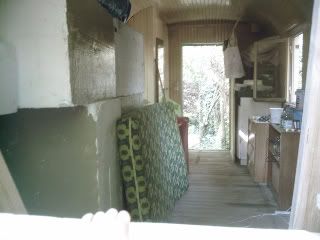 Today: wha-la! Lived in, cheerful, and filled with the crap I call my possessions: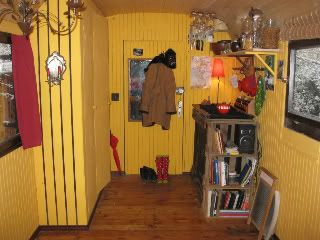 As seen when facing in the opposite direction (with my back to the door), before the make-over:
And don't forget the big fucking hole in the wall where I had to cut out some scary sponge mold! Wasn't that a blast! Does the fun ever start?! (Ugh.)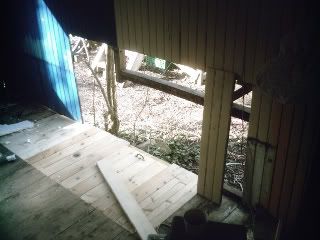 Here today, gone tomorrow. Hot, hot damn.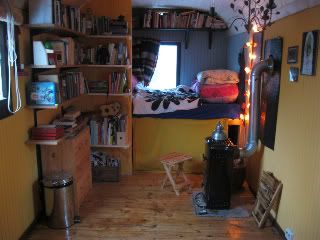 And there you have it folks, a fugue in wagon minor, a year's worth of learned building skills, and an incredible amount of timely dumpster dived resources: my finished house. And the best part? The even better bestest of the best part? The whole thing–the house, moving costs, building materials, and tools–cost me under 1000 euros.
Trash house: check. Trash book: pending. Whew. Finally I'll have time to think about something else.
This post was a part of Metamorphosis Monday at Between Naps on the Porch, DIY Thrifty Thursday at Thrifty 101, Things I Love Thursday at The Diaper Diaries, Strut Your Stuff at Somewhat Simple, Transform Thursday at The Shabby Creek Cottage, Thrifty Thursday at Tales from Bloggeritaville, Fresh Friday at Release Me Create, Farmgirl Friday at Dandelion House, Frugal Friday at The Shabby Nest, Frugal Friday at Life as Mom and Tutorials & Tips at Home Stories A to Z.