wagon dominos part three: moving the ship
You might remember these two photos from last week's post about moving my trailer to a different spot on the Wagenplatz. Well take a good look at them, because…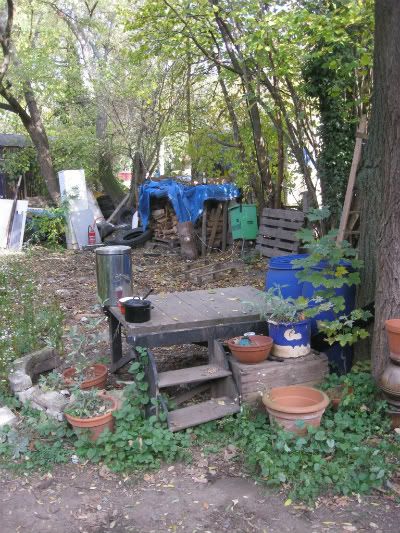 …now it looks like this: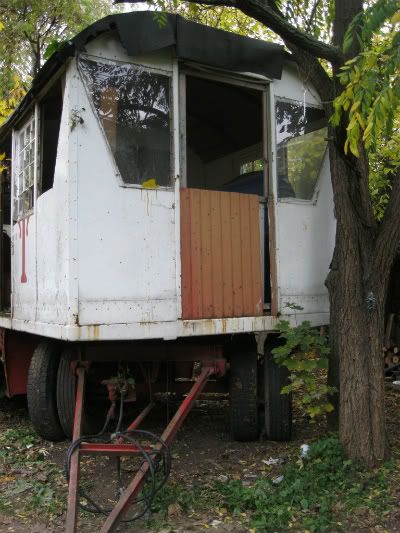 No, your eyes do not deceive you. That wagon is fucking HUGE. And manuevering it through the tight spaces it had to fit through to get from A to B involved creativity of the kind that always makes me proud to be part of a network of such brilliant mad scientists.
It started out here:
No one was really sure if the tractor would be able to handle pulling it. It worked when we shimmied it into that spot the first time (this particular ship has only been on our Wagenplatz for about a year), but since then it has been filled with boxes and over a pallet full of wood briquettes. Despite the weight the tractor managed it (though a handful of people had to stand on the back of the tractor to keep it from bucking).
Within a couple of minutes it was out of its former parking spot: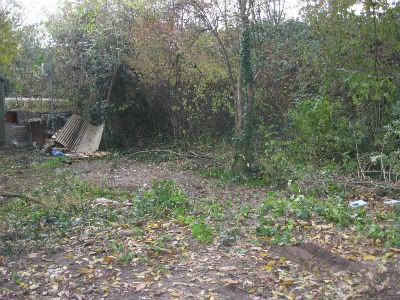 And on its way to getting stuck in the extremely tight channel it needed to sail down: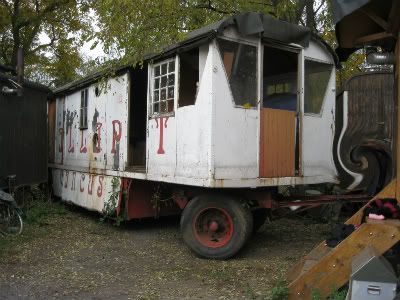 (And here it is stuck there as seen from the other side, taken from about where my front door used to be.)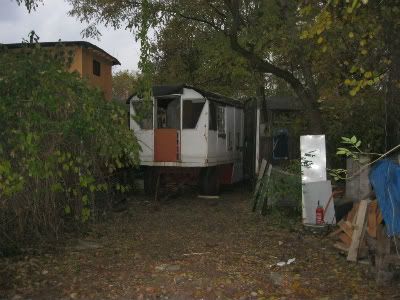 That's when things got complicated. The first problem was that the tractor was on the wrong side of the wagon to be of any use. After some measuring, chain sawing, and a good deal of moving of wood, we cleared a path for the tractor so that it could drive between wagon sides. Because after a number of attempts it became clear that all we could do was try to push it's ass-end the arms length we needed it to move to fit in the new space.
The second problem was that pushing and pulling weren't doing a damn thing. That's where the mad scientists came in with a brilliantly insane idea. We would put down some big sheets of metal and cover them with oil. Then we would push the back axle onto the oily metal (making sliding possible as it hadn't been on the dirt) and then we would push the ass end with the tractor. It sounded totally ridiculous. And it worked.
Now it's parked snugly in my old spot, making my wagon look like it was the size of a peanut, directly across from where the Beard and I's sleeping wagon still stands. And because we didn't actually need to move a wagon out of the way to get it in there (as we had thought we would), there are only two more wagons left to go in wagon dominos before we can move our sleeping wagon into its new, much quieter spot. !!!!!!!!!!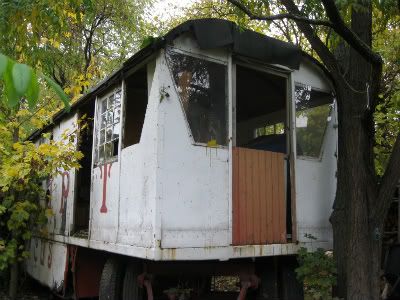 Want to read more about moving tiny houses? Check out these posts:
the wagon moves (wherein we haul my trailer home for the first time)
wagon dominos part two: moving my tiny house
wagenplatz dominos part one
moving out, moving on