wagenplatz dominos part two: my tiny house moves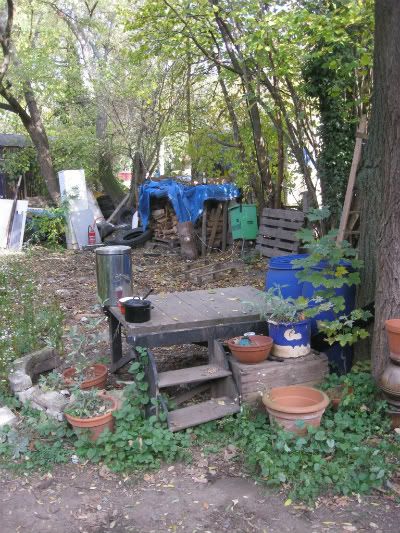 Now you see it, now you don't.
Moving is a pain in the ass. When I think of moving I think of packing boxes, of stress, of never having enough room in the car. Moving a house on wheels is a relief in comparison. You put all the breakables in boxes on the floor. You make sure the cabinets are sealed up tight. You get a jack and remove the blocks holding your wheels up off the ground. And then you hook up a tractor or a big truck and whisk your house off to it's new spot. No packing involved. To move and be able to go right back to living as you did, to knowing where everything is, to unpacking maybe a handful of boxes is a luxury indeed.
My trailer presents two problems when being moved: the cellar box I built to store my firewood is really poorly placed and rubs up against one wheel when making hard right turns (whoops) and the axle occasionally sticks (I have no idea what the technical terms are for this stuff, but there's a circle part that allows you to steer and it sometimes gets stuck on the straight part that holds the wheels). I would have taken the cellar box off, but the rubbing is minimal and doesn't block progress. As for the axle sticking, we solved that when it happened by rocking the trailer slowly back and forth until we got enough space to quickly shift the towing bar into the desired position. Otherwise, she's in real good shape. Not too shabby for a 61-year-old trailer, eh?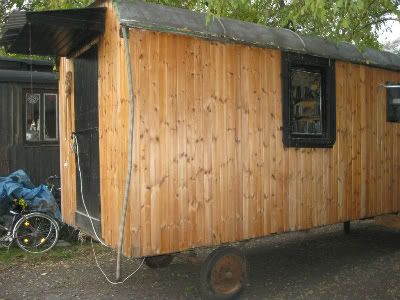 At first I wasn't particularly excited about the new spot. As I mentioned yesterday, I've been feeling rather resistant to any change beyond the scope of the coming baby. (How do pregnant ladies handle moving??! I've heard plenty of stories of people doing it, and I just have to say, wow. I couldn't handle it. Moving right now would turn me into a weeping wreck.) But I'm sitting in my trailer in said new spot right now, and I have to say I love it. There's more light, there's just as much lovely green, and the feeling of change has me feeling exciting about everything. Excited about doing a little pre-winter cleaning, excited about building a new shed for the baby carriage and bike trailer, excited about the terrace with outdoor sink I have been waiting on building for the last five months. Below you'll see the new spot pre-my-trailer, and then a shot from about the same spot with me snuggly parked.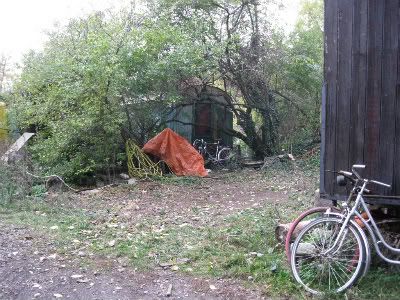 I was pretty light-handed about my preparation. I took all of the glass jars down off of the shelves and put them in boxes, and I tied the doors to my built-in cabinets shut, but I left all of my books on the shelves and the wine glasses hanging in their rack on the ceiling. And despite the bumps, the fact that the trailer almost tipped over completely at one point during the move (I have never been so close to a heart attack), and our rocking to get the axle in line, not a single book fell off of the shelf. One picture fell off of the wall, but otherwise, everything remained as I had left it. The picture below was taken after the move was complete.
The period of waiting is over, and I'm riding the momentum of the change on into the long to-do list I had been ignoring. Having needed to remove my wood stove pipe for the move, I was inspired to finally clean it (as you really should do before the start of every heating season, ehem). And while I was up there I even started cleaning out the gutters. Today I'll finish cleaning up the remaining chaos inside, and tomorrow, if the weather holds, I'll start building the new shed. Ah, isn't she purdy? Only four more wagons to go…
Want to read more about moving tiny houses? Check out these posts:
the wagon moves (wherein we haul my trailer home for the first time)
moving out, moving on
wagenplatz dominos part one
This post was a part of Homestead Barn Hop at The Prairie Homestead and Anti-Procrastination Tuesday at New Nostalgia.