tiny tips for tiny houses: drying laundry
In our little community we go without a lot of things that the majority of folks in the western world consider standard. Running water in our kitchens. Bathrooms attached to our main living spaces. Dial-controlled, low-maintenance heating systems. Doing without these things makes our particular community possible, and I rarely miss them. But every once in a while, I'll get a well-it-certainly-would-be-more-convenient-for-my-lazy-ass-right-now pang. The only thing I've never missed is having a dryer.
Line drying is awesome. In the summer you've got as much space as you've got yard, with the added bonus that the sun will bleach your whites and, allegedly, disinfect really gross, dirty travel punks' socks. Problem with line drying when you live in a tiny house is that in the winter, you don't have the space. Sure, you might be able to squeeze one rack (usually fits exactly one machine full) in somewhere, but you'll spend the next couple of days tripping over it and cursing its space-hogging presence in your little abode. With massive amounts of baby laundry on the horizon (we're cloth diapering, in case you hadn't heard), the problem of drying space was becoming more urgent.
As we have a house on the front of our community's property, we all can sometimes set up our drying racks in the house—but only during semester breaks when the vokü (vokü=cheap, volunteer-run, vegan or vegetarian cafe, like Food Not Bombs with less dumpster diving) isn't running. The garage/addition area is usually up for grabs too, though it is a pretty musty area and your laundry will end up outside, rain or shine, if you forget to move it before the next scheduled concert. And since sometimes people smoke in both of those places, neither make for a good baby-wash-drying solution.
So the Beard grabbed two old sides of a wooden baby crib that I had dumpster dived years before and been planning to use as kindling, added hinges, screwed them to our ceiling right above the wood stove, and solved the problem in a matter of minutes. Wha-la: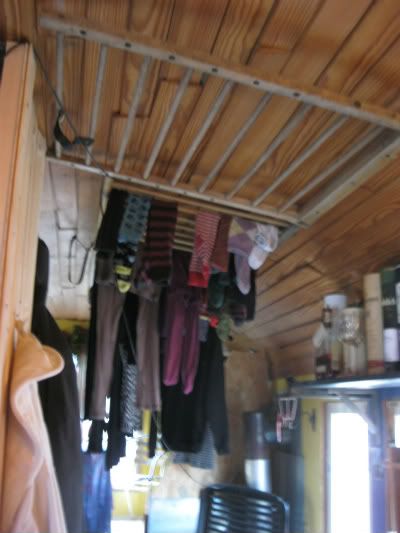 Two loads of laundry fit on them, and the hinges allow them to swing down just far enough so that I can reach them. The best part is that their position over the wood stove means that our laundry drys in a matter of hours instead of the days it sometimes takes in the sometimes-damp, never that warm garage area. Dumpster-dived baby bed turns into tiny house laundry rack. Yes and yes.
Are you dryer free? How do you deal with line-drying during the winter months?
This post was featured on Frugal Days, Sustainable Ways 9 at Frugally Sustainable, Simple Lives Thursday at gnowfglins, DIY Thrifty Thursday at Thrifty 101, Homestead Barn Hop at The Prairie Homestead, Frugal Tuesday Tip at Learning the Frugal Life, and 2nd Time Around on A Picture is Worth a Thousand Words.
Category: Freegan & D.I.Y., Philosophy, Tiny House Movement
Tagged: dryer free, get rid of your dryer, kill your dryer, line drying, living in a tiny house, living without a dryer, small houses, small life, tiny dwelling, tiny house, tiny house life