tiny living: a built in cabinet
Once upon a time when the Beard first came into posession of the red trailer (which coincided with me moving to Mainz and us moving in together) it looked like this. And I looked like that.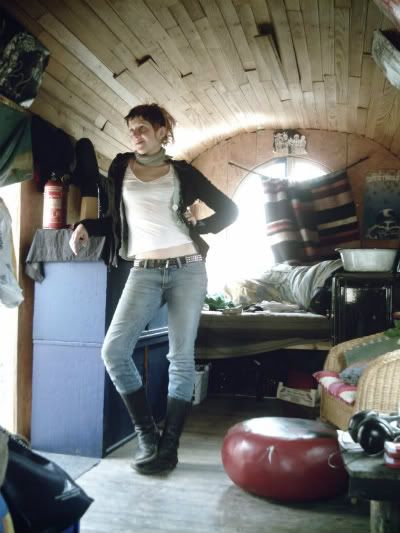 These are both views looking to the right and left of the door, which is located about in the middle of the trailer. And a side note to save my pride: we did not do the ceiling. Someone who couldn't be bothered to actually fit the tongue and groove boards together did the ceiling, and it kind of makes me nuts. But that's another story for another day.
When I finished fixing up my trailer (click here to read the whole story), I moved all of my stuff over to it, and the Beard and I basically lived as if we had seperate apartments across the street from each other. Each of us would come over to visit the other, but our stuff lived in separate places, and each person was the master of his, her own little space. But with Peanut on the horizon we rethought our housing strategy once again. We have painted and built and rearranged, things are nearing completion, and we're both falling into a new spatial routine.
Trash house (aka my trailer) will be our kitchen, my office space, and (since I am leaving the bed in place so that we can continue to sleep separately when one of us is sick or working late) guest space/extra sleeping space. Since I already use it for all of these things, not much will be changing there.
The red trailer will be our main living space: bedroom and living room and hole-up-here-for-the-winter room, and that's where the bulk of the rennovation projects have been taking place.
We (and by we, I mean the Beard as he's done most of the work this time around) started with a fresh coat of paint: purple on the one side and yellow on the other to create a feeling of having two rooms. To further the feeling of two-roomness, I built a floor-to-ceiling cabinet that acts as a partial wall dividing the sleeping area from the other half of the trailer. My logic in this had to do with creating storage space where there previously was none: by building the cabinet out into the room, we gained as storage space a part of the trailer that had only been available for walking through before.
The cabinet isn't quite finished (still needs doors), but as I know it'll take me a while to get around to cutting and attaching them, I thought I'd share the photos from the project today. You'll also notice that we've moved the bed to the other side of the trailer (these photos face the same side of the trailer as is pictured in the second photo above). The bed will be further away from the wood stove (con), but it will soon be big enough to sleep the three of us comfortably (pro pro PRO, I love me some wide open spaces when I'm sleeping).
My inspiration for the new cabinet were the built in cabinets in my own trailer (I love whoever built these and put them in because they were capable of an exactness in building that I have yet to master). Here's a look at them: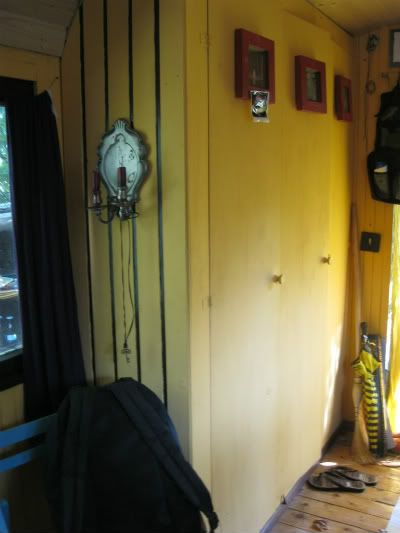 building a new cabinet
Whenever I build something, I spend a long, long time sitting in front of the project space and imagining what it will look like, what problems I will encounter, and how to go about handling each step of the building process. So, step one looked like me staring into space for a long time. And step two looked like this (the long beams I bought, but all the short beams were leftovers from the building supply store dumpster dive we did several years ago):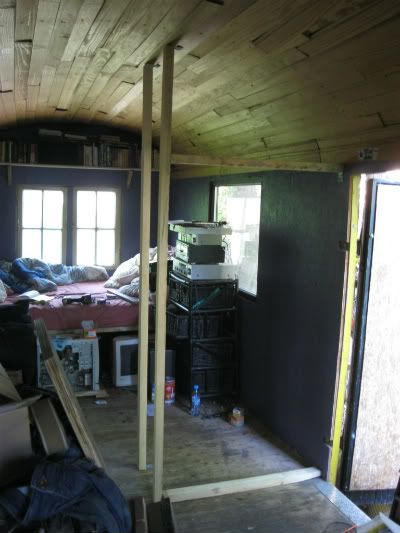 And oh! isn't that a lovely color for a sleeping room? I think so.
Once the frame for the cabinet was in place I sided it with tongue and groove boards: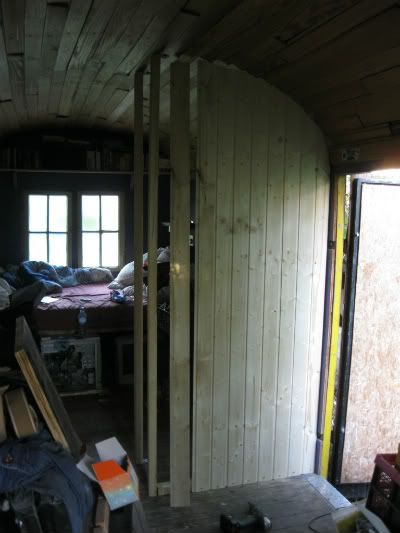 And today it looks like this: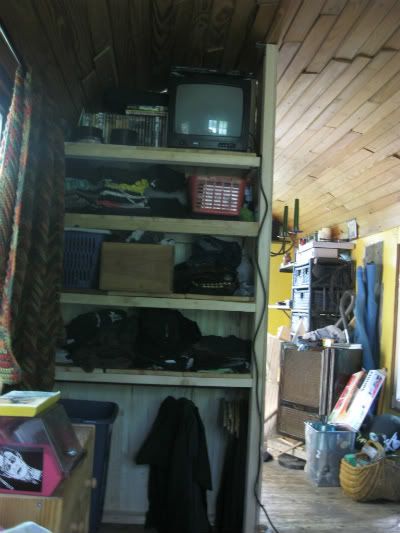 Someday it will have doors, and someday the whole thing will be painted, but for now, we're both happy to have a place for our clothes and a tv to live (the tv being our latest scavenge—before we were using the Beard's ancient computer to watch rented movies, and let me tell you it was a huge pain in the ass). And I will be happy when I've attached the doors that will enable us to ignore the chaos that will inevitably dwell behind them.
Next week: the "podest" aka stage aka raised platform that the Beard built on the other side of the trailer to increase storage space and keep our feet warm in the winter.
This post was a part of Motivate Me Monday at Keep It Simple, Just Something I Whipped Up at The Girl Creative, Made by You Mondays at Skip to My Lou, Anti-Procrastination Tuesday at New Nostalgia, Show and Share at Just a Girl, Fresh Friday at Release Me Creations, Frugal Friday at the Shabby Nest, and Frugalicious Friday at Finding Fabulous.