tiny house movement: the t-shirt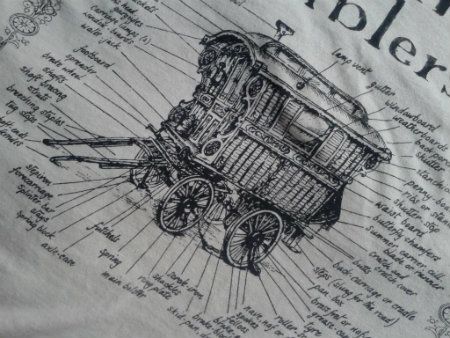 When I think about it—and I often do—the fact that living in tiny houses has become a movement is kind of strange.  I mean, that used to just be the way it was, right?  Normal people didn't live in huge McMansions.  Half of the time people were in homes that might be considered far too small for the number of people living in them. Nomadic peoples built shelters like the teepee.  Small houses were the norm.  Then we (in the western world at least and particularly in America) got all crazy and now couples live in huge, echoing structures that are so big they have to hire someone to help them clean.  Fuck that.
In Germany I don't hear people talking about a "tiny house movement" so much.  Why?  Coincidence, perhaps, together with the fact that most of the houses here are really frickin old, also know as from "the time before McMansions became accessible to people below the upper upper class."
But things got out of hand and now there's a movement that's bringing people back down to earth.  Well move this!  If you've been around for a while, you know that my partner, daughter, and I live in a tiny house on wheels in a community of folks living in houses on wheels (called Bauwägen).  There are 130 of these communities throughout Germany, and we celebrate the lifestyle.  It is a choice that has allowed us to live our lives on our terms, sans the kind of jobs that make us feel trapped and uncomfortable and miserable.  We celebrate it so much that when we made band t-shirts this summer, we decided to put a lovely drawing of a tiny house on them.  At the time all three band members lived in tiny houses and for as long as we've been making music we've been having practice in the same tiny caravans.  Not quite as small as this, but you get the idea. Tiny houses were in part responsible for us having found each other to make music in the first place.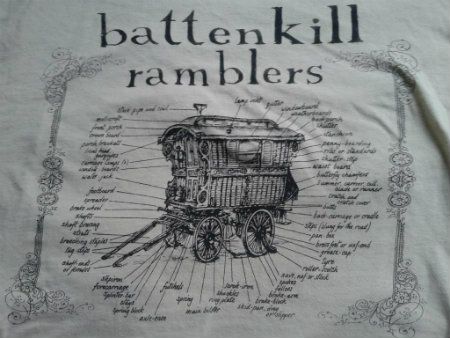 So! If you love tiny houses, please consider buying our t-shirt! Even if you aren't really into folk music (though if you are you can check us out here), buy 'em for the beautiful tiny house on the front.  Or buy 'em cause you love whiskey (the back reads: "no borders but whiskey," which is a reference to one of our songs). We had a friend screen print a very limited number of shirts at his workshop in Berlin, in sand and charcoal, and once they are gone, they are gone forever. We've got S, M, L, and XL (no specifically "ladies" sizes, but I find the fit good, and you can always buy an XL and Frankenstein sew that shit).  And the Beard and I are currently living off of the money we make selling them, so you'd also be supporting some tiny housers and particularly Click Clack Gorilla in her further pursuit of tiny house online documentation.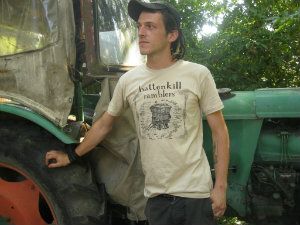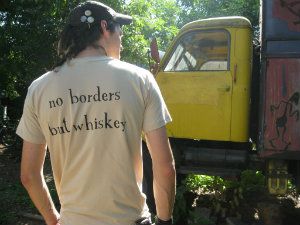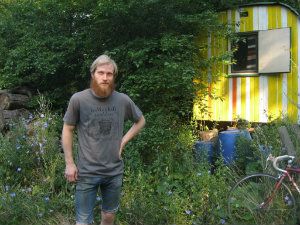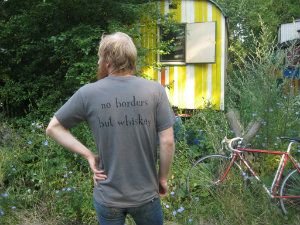 how to order
Pick a size: S / M / L / XL
Pick a country (where we should ship the shirt) and note the price:
Germany 11.35 (euros)
Europe 13.45 (euros)
America 13.45 (euros) or 16 dollars
Click the link below to send us that amount via paypal. Include your shipping address in the notes, along with the size and color you would like. Wala!  If you would like to send money by some other means, just drop me an email, and we can work something out (nicolettekyle AT yahoo DOT com). UPDATE: The paypal donate button seems to have expired. So please just paypal the money to nicolettekyle AT googlemail DOT com. Sorry about that!