dishwater geek, springtime magic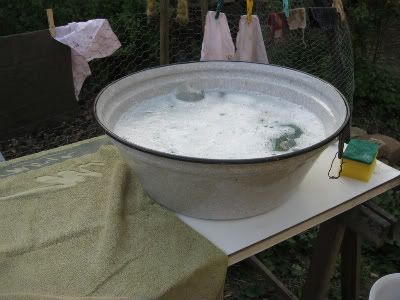 And with the start of spring, doing the dishes is suddenly fun. Fun, because doing them means standing outside in the sun, fondling some of my favorite objects, and, on the days destined for an extra heap of sugar, being serenaded by the banjo being plucked in the wagon across the way. This may make me a geek of some sort. But already being a proud bearer of that title on a number of fronts I say fuck it, let's wash us some dishes.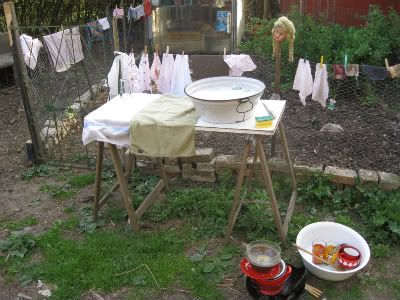 This is what it looks like when I wash the dishes (and when I run out of room on the drying rack and hang the remaining laundry on guard doll's fence). Inside, I collect all the dirty dishes in a big metal tub. Once it's full I fill up another big metal tub with soapy water, set the other tub on the ground next to the table, and leave all the dishes outside to dry in the sun when I'm finished. Then, depending on which dish washing soap I've used, I either dump the water in the gutter on the street or on the bushes growing outside of my front door. In the winter I do more or less the same thing, but inside, with a lot less elbow room and sunshine. Oh sweet, sweet springtime! If I could give the weather a kiss, it'd be a big wet one with lots of tongue.
My makeshift table was born out of neccesity ("Hmm, none of my free tables are high enough to do dishes on," I thought) of a found board and the wooden insta-table fold out things (what the hell are they actually called?) that I picked out of the Frankfurt trash and have carried with me across the country and back.
The dishes themselves, as well as the tubs I store and clean them in, are about 3/4 trash finds and 1/4 flea market purchases. Now that I think of it, the only new item I've purchased for my kitchen in the last six years was a white ceramic measuring cup that I found so irresistibly gorgeous that I bought it on the spot. (I was drunk at the time. I'm not kidding. Wine with a light lunch is a dangerous thing.)
Have you ever washed your dishes outside? Despite the fact that it would make absolutely no logistical sense for, say, someone living in an apartment on the fifth floor, I highly recommend trying it sometime. See if you don't find a few more grins in the water than usual.