there was an old woman who still lived in a shoe
How to keep a blog kicking when you're trying to learn how to balance infant raising and sanity, sleeplessness with productivity and when the internet feels like the last priority? Why not revisit some old Click Clack Gorilla posts?, I thought to myself. If you've been reading since CCG's humble beginnings back in 2007, then I apologize for the redundance. But there do seem to be enough new faces to make a few retrospective's worth the while, so when I was re-reading my archives to weed out bits for the next Click Clack Gorilla zine, I picked out a few things to re-share.
This blog was written about a month after first moving to the Wagenplatz where the Beard and I are still living and was originally posted December 9, 2008. Much remains the same—we still visit that grocery store—but so many details have changed. Our trailers are in different spots. (And I have my own at last.) Our numbers have grown. People have moved out and moved in. I'm no longer vegan and the vegan kitchen is no longer a kitchen. It's fun, looking back over all the changes and remembering how enthusiastic I was about moving here. And it's fun to still be living here now. Wonder where we'll be in another three years time?
there was an old woman who lived in a shoe, december 2008
I don't know how to start the story because I'm not sure where it starts or where it ends. In media res: Me, right now, sitting in the vegan kitchen, next to the crackling wood stove.
Two days ago Workshop fired up the circle saw, and we sliced up all the junk wood we found laying around so it would be small enough to fit in the kitchen wood stove's tiny door. Every couple of days I chop wood with an ax with an almost-broken handle. One day soon the head is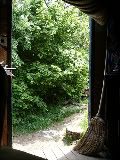 going to split and go flying through Wolf's window, or, if I get lucky, get stuck in a piece of wood. Every couple of days one of us goes dumpster diving, and afterwards we all stand around the table in the kitchen, giddy and stuffing our faces with donuts and five-grain nut bread smeared with the dairy products we avoid the rest of the week. Every day someone cooks a vokü and we sit around the bar drinking coffee and making plans. When I go to bed it's warm, and I throw another log in the stove before falling asleep to another episode of the Simpsons, or maybe a radio play. When I wake up in the morning, it's cold, and I can see my breath, and I've crawled between at least two of the six down blankets we have scattered around the bed. I open the shades and let the light and the air wake me up slowly. There's no where I have to be, no appointments or steady job to be late for; every day is mine, and I spend every day reading and writing and cooking and building and exploring and biking and playing and scheming.
We've become good friends with the man who owns the little grocery store across the highway. He gives us all the vegetables that he'd otherwise throw away, gives us discounts on the vegetables we do buy, and lets me take all the wooden cartons home to use for kindling. I don't recall ever shopping at a grocery store where the owner knew my name, and my lover, and that we cook for something like 20 people every day, students and friends and bands.
The first night I spent here I went dumpster diving, told the Beard about the dumpster gods, drank red wine and washed the veggie-booty while he heated up the wood stove. The first day I spent here I cut vegetables outside the vegan kitchen. There was a concert that night, people to cook dinner for, five of us hanging out and preparing it.
The friend who'd come with me had slept in late, sent her at-the-time-lover to check on me. "How did she look?"
"Like she already lives here," he told her. They laughed. I moved in officially seven, eight months later.
These are the snapshots and randomly selected details, here to fill out all the stories I haven't yet figured out how to tell.
The "gypsy" thing started with a little blue wagon in Frankfurt. ("You live in a shoe!" a friend said
when she saw the pictures.) I had a little tower with a lofted bed, an open-able roof, a little wood stove, and mice in the walls. Now I live in a big red ship, with an enormous wood stove, a couch and a coffee table, book shelves and shelves for the records and a couple of cabinets that I rescued from the trash and sanded and painted blue and the window next to the bed is always filled with the silhouettes of the maple leaves on the tree just outside. It's all on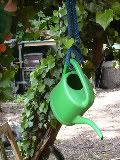 wheels, and we could move it around with a tractor whenever if we felt like it.
Things are mostly "we" these days. I live and love and cook and cry and fight and yell and stomp and dance and piss and get ragingly drunk with the thirteen-something people I live with here. Home sweet home. Our little squatted baby. Our smoky gypsy camp. The thorn in the university's side. The Wagenplatz, and house in front of it. Home fucking sweet home. It's been a couple of years since I've really, really felt that way. Now I gaze at my books—lined up by color on the built-in shelves—together again for the first time in three years. Now I'm fantasizing about the garden I'm going to plant in the front yard come spring.
Photos, except for the middle one, taken by T(H)Stewart.