the year in books 2013 and a book-lover blog hop
FURTHER NOTES FROM THE FUTURE: I am not sure if people are still having problems seeing the newest posts, but just in case, I'll be posting links to them all here so that no one misses a thing.
Posts you might have missed:
If you can see this post you've won a prize/Kitchen photos
Daily life February 2014 (a low moment in time)
And then we had a kitchen and life was suddenly all marshmellows and cartwheels
Put on some rabbit ears and dance
Since I spend most of my time thinking about books
NOTE FROM THE FUTURE: Things on the blog are broken.  There are new posts, and many people can't see them.  This will be fixed, but it is taking time.  Lots of it.  For now, I am here to tell you that you can visit the newest post by clicking here.  And also, that I started a book website with my buddy Erika Jelinek, and I love it if you came by and said hello.  Here it is: Book Punks.  So, hope to have these web problems solved soonish.  Until then…
The bell has tolled.  The time has arrived.  I can now reveal the Click Clack Gorilla Year in Books. There are still two reading days left in 2013, but there is no way that I am going to finish any more books before 2014.  There is jet lag.  Psychedelic zombie ponies are stomping on what is left of my brain.
But look!  Previously, my brain did work, and I read a lot of things (links lead to reviews I've written of said books, or read all of the year's book posts here).  I even reached my goal of reading 100 books in one calendar year.  That felt like a fucking lot of books at the time.  Then I met a lot of really voracious readers who accomplished even more.  And who I will duel to the death next year by attempting to read myself out of all life outside of the printed page.  Just kidding.  Pickles has already seen to that.
If you also like to read, please join in the Year in Books Blog Hop at the bottom of the page.  Basically what "Blog Hop" means is that you blog about your year in books (and if you didn't keep track, posts on a favorite book this year or any other related book topic are also welcome) and add a link to the post to the linky at the end of this post.  Linky etiquette requires you to link back to this post in your post, but I won't flog you if you forget.  (Still it is nice, and makes google like us all more.)
If you want to hear some more babble from me about the year's highlights, you'll find that after this very long list that I expect almost no one to read, but hey, there are pictures too.  If you do read it, I'd also love to hear if you've read any/many of these and what you thought of  'em.  To the comments with you!
1. The Scourge of God by S.M. Stirling
2. Origin of Paranoia as a Heated Mole Suit by Rupert Wondolowski (reread)
3. A Wizard of Earthsea by Ursula K. Le Guin (reread)
4. Whore Diaries: My First Two Weeks as an Escort by Tara Burns
5. The Tombs of Atuan by Ursula K. Le Guin (reread)
6. The Farthest Shore by Ursula K. Le Guin (reread)
7. The Sword of the Lady by S.M. Stirling
8. Harry Potter and the Half Blood Prince by J.K. Rowling (audio – reread)
9. Life of Pi by Yann Martel
10. Ten Thousand Miles by Freight Train by Carrot Quinn
11. The Giver by Louis Lowry (reread)
12. Gathering Blue by Louis Lowry
13. The Scar by China Mieville
14. Messenger by Louis Lowry
15. Son by Louis Lowry
16. Blood Red Road by Moira Young
17. Wild by Cheryl Strayed
18. The Stone Gods by Jeanette Winterson
19. Boating for Beginners by Jeanette Winterson
20. The High King of Montival by S.M. Stirling
21. The Book of Disquiet by Fernando Pessoa
22. Blindness by Jose Saramago
23. Gut Symmetries by Jeanette Winterson
24. Export A by Lisa Kränzler (first German read of the year)
25. An American Plague: The True & Terrifying Story of the Yellow Fever Epidemic of 1793 by Jim Murphy
26. Lucifer's Hammer by Larry Niven
27. Death in Venice by Thomas Mann
28. I Am Legend by Richard Matheson
29. Twilight by Stephenie Meyer
30. Little Brother by Cory Doctorow
31. Wild Seed by Octavia Butler
32. A Wrinkle in Time by Madeline L'Engle (audio book – reread)
33. The Glass Castle by Jeannette Walls
34. New Moon by Stephenie Meyer
35. Eclipse by Stephenie Meyer
36. Breaking Dawn by Stephenie Meyer
37. The Battle of the Sun by Jeanette Winterson
38. Gone Girl by Gillian Flynn
39. Begegnungen auf der Trans*fläche by kollektiv sternchen & steine
40. Robopocalypse by Daniel Wilson
41. The Passion by Jeanette Winterson
42. The Master and Margarita by Mikhail Bulgakov (reread)
43. The Wind's Twelve Quarters by Ursula Le Guin
44. Kafka on the Shore by Haruki Murakami
45. Sabriel by Garth Nix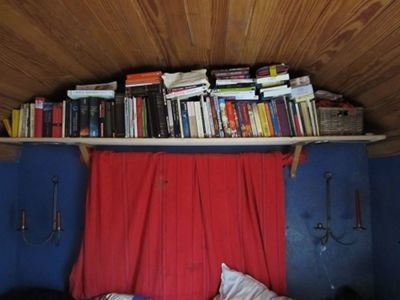 46. Unnatural Creatures edited by Neil Gaiman
47. Magic for Beginners by Kelly Link
48. Hothouse by Brain Aldiss
49. Ready Player One by Ernest Cline
50. Witches by Roald Dahl (reread)
51. Gremlins by Roald Dahl
52. The Word for World Is Forest by Ursula Le Guin (audio book)
53. Someone Like You by Roald Dahl
54. Finding Life Beyond Trauma by Victoria M. Follette and Jacqueline Pistorello
55. Danny the Champion of the World by Roald Dahl
56. Sorry Please Thank You by Charles Yu
57. James and the Giant Peach by Roald Dahl (reread)
58. Kiss Kiss by Roald Dahl
59. Ready Player One by Ernest Cline (audio book "reread")
60. Marcovaldo by Italo Calvino
61. The Name of the Wind by Patrick Rothfuss
62. Charlie and the Chocolate Factory by Roald Dahl (reread)
63. Charlie and the Great Glass Elevator by Roald Dahl (reread)
64. The Wasp Fastory by Iain Banks
65. Makers by Cory Doctorow
66. Adventure Rocketship!: Let's All Go to the Science Fiction Disco edited by Jonathan Wright
67. The Magic Finger by Roald Dahl
68. The Night Circus by Erin Morgenstern
69. The Tears of the Sun by S.M. Stirling
70. Von Bänken und Banken in Frankfurt am Main by Bernd Kostering & Ralf Thee
71. Cursed Pirate Girl by Jeremy A. Bastian
72. The BFG by Roald Dahl (reread)
73. Watchmen by Alan Moore and Dave Gibbons
74. Tintenherz by Cornelia Funke
75. Parable of the Sower by Octavia E. Butler
76. Parable of the Talents by Octavia E. Butler
77. Ocean at the End of the Lane by Neil Gaiman
78. Wicca for Beginners by Thea Sabin
79. My Side of the Mountain by Jean Craighead George
80. Mockingbird by Walter Tevis
81. The Cuckoo's Calling by J.K. Rowling
82. Book of Shadows by Phyllis Curott
83. Wool by Hugh Howey
84. Beauty in Decay: The Art of Urban Exploration by RomanyWG
85. Wastelands: Stories of the Apocalypse edited by John Joseph Adams
86. Beauty in Decay II by RomanyWG
87. The Incredible Book Eating Boy by Oliver Jeffers
88. The Lies of Locke Lamora by Scott Lynch
89. Non-Stop by Brian Aldiss
90. Steering the Craft by Ursula k. LeGuin
91. It Will Live Forever: Traditional Yosemite Indian Acorn Preparation by Beverly R. Ortiz
92. The Traveler by John Twelve Hawks
93. The Princess and the Goblin by George MacDonald (reread)
94. The Princess and Curdie by George MacDonald
95. The Boxcar Children 1 by Gertrude Chandler Warner (reread)
96. An Invisible Thread by Laura Schroff and Alex Tresniowski
97. The Hobbit by J.R.R. Tolkien (reread)
98. Slow River by Nicola Griffith
99. Chick Days: Raising Chickens from Hatchlings to Laying Hens by Jenna Woginrich
100. Doomsday Book by Connie Willis (audio)
Mieville, Rothfuss, Lynch, Doctorow, Murakami, Butler, Gaiman, Winterson, and so many more talents have made the year's reading pretty damn staggering.  I mean, sure, I also read the Twilight series, but the rest, the rest!  If you forced me at gun point to choose one favorite, my first answer would be Parable of the Sower by Octavia Butler.  Then I would remember that I also read Ready Player One by Ernest Cline this year and chose that.  (I liked it so much that I listened to the audio book immediately after finishing the paper book.)  Then I would re-read the list and become very agitated because look at this fucking list.  There is no way to pick a favorite and mean it forever and ever in stone.
I was deeply impressed by Nicola Griffith's Slow River, and I really disliked Brain Aldiss' Hothouse.  I revisited a number of classics from my childhood, and of those, The Boxcar Children was the weirdest.  I still enjoyed it for its "kids surviving in the woods, living in a boxcar, and going scavenging at the dump" aspects, but damn, cookie-cutter gender roles anyone?  I found Doomsday Book by Connie Willis incredibly boring for a long time, and then spent a sick day listening to it for hours and became obsessed to the point of relistening by the end.  Still don't love the reader of my audio copy of that though.
Fourty-five of the year's books were written by women.  Four of them were written in German.  (Guess I really went after last year's goal to read more German language books, huh?  Cough.)  Seventeen were re-reads.  Sixteen were non-fiction.
The Year in Books is one of my favorite blogging traditions.  Actually, it is my only blogging tradition, so BE APART OF SOMETHING UNIQUE TODAY.  Or something.  At the very least I hope 2014 brings you as many awesome books as it looks like it is bringing me.
My goals for 2014 include not buying any new books until I've read at least fifty from my current to-read shelf and writing more reviews when I do.  I am not even going to pretend to try to read more in German, though for tradition's sake, I should probably promise to finally read Kafka in the original (on my to-read shelf for eight years and running).  Which I guarentee I will not have done by the end of 2014.
What did you love reading this year?  What reading goals have you set for 2014?
You can read the Click Clack Gorilla Year in Books Past by clicking your mouse–2009, 2010, 2011, and 2012–and then go check out what other Click Clack Gorilla readers have been reading this year.