the year in books 2011 and a book geekery link party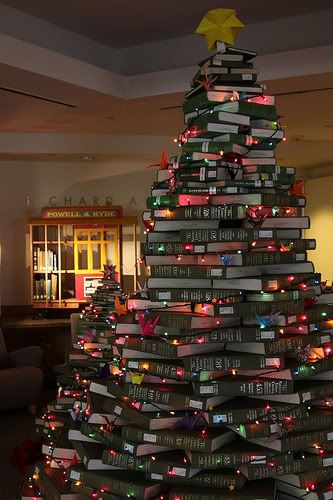 I don't make New Year's resolutions. In fact, the end of another calendar year rarely inspires me to introspection, despite the onslaught of it on every pair of lips and blog.com this time of year. December just doesn't leave me inspired to "take stock"—that's anniversary territory. But two years ago I did start one year-end tradition: The Click Clack Gorilla Year in Books.
I am a book geek. I read constantly. And because I like remembering where I was in my life when I read certain tomes, I keep a list in the back of my journal of every book that I finish. In 2009 a friend of mine shared her own list online, and I was inspired. I could share my list and start conversations with other book geeks about how our literary years had panned out! I could gaze upon a year's worth of reading all in one neat little spot and feel smug about all the reading I had accomplished! I could pick favorites and least favorites and feel like I had a good reason to babble about them! A tradition was born. (You can check out the 2009 and 2010 years in books by clicking the hyperlinks.)
This year I decided to include audio books because I listened to so damn many of them (but I only included those that are unabridged readings and not those that are chopped up dramatized versions). In previous years I left them out because it somehow felt like cheating to include them. But then I realized that that was ridiculous.
This year I'd also like to invite you all to share your own reading lists. Especially all you bloggers reading—which is why I'm making this year's Year in Books the first Click Clack Gorilla link carnival. So if you have a blog, post your own year in books post and add a link to it using the linky tool below. You don't have to have kept and share a meticulous geek list like I do—I want to read your year's book lists, hear about your favorite (and least favorite) books this year, or listen to your rants about digital readers and the deaths of independent book stores. Anything that sums up in the year in light of books and reading and literary geekery is welcome. And if you don't have your own blog, I'd still love to hear from you in the comments. Because I love this stuff. LOVE IT. There is only one rule: if you link up to the party, please put a link back to this post somewhere in the post you've linked. Link link link linkity link. And now that I'm done overusing that word, onto the books.
Looking back over my list is a little like looking at a photo album of the year's events. I remember reading the Hitchhiker's Guide series while relaxing in Leofels for New Years with a gaggle of friends. I remember getting really into listening to books on cd while doing dishes and cleaning. I remember when Aunt and Uncle Sprinkles sent me the Song of Fire and Ice series and how I read one book after the other in the outdoor bed we set up for the hot weeks we had in April.
My mid-year reads remind me of getting pregnant when I see the onslaught of audio books I listened to because I was puking too much to handle actual reading followed by a ton of books about having babies. I remember buying books at the anarchist festival in Appelscha at a few titles, and I remember finally getting my ass to the Mainz library to get a membership at a few others. I remember resolving to read as many books from my to-read shelf before the baby comes as was humanly possible. My only regret is that I still haven't managed to acheive last year's goal of finally reading Kafka in the original German. Those books are still staring at me accusatorily from the shelf.
My favorites of 2011 were When You Are Engulfed in Flames by David Sedaris, If on a winter's night a traveler by Italo Calvino, Mythmakers and Lawbreakers by Margaret Killjoy, The Forest People by Colin Turnbull, and Unconditional Parenting by Alfie Kohn. Das Labyrinth der Träumenden Bücher by Walter Moers and Eragon by Christopher Poalini were the most disappointing. And On the Road by Jack Kerouac wins by a landslide for straight-up most horrible. All in all I'd say it's been a pretty good year. Happy 2012 everyone! And if the Mayans were wrong about the end of the world coming this year, see you in the twelves.
1. Hitchhiker's Guide to the Galaxy by Douglas Adams (reread)
2. The Restaurant at the End of the Universe by Douglas Adams
3. Life, the Universe, and Everything by Douglas Adams
4. So Long and Thanks for All the Fish by Douglas Adams
5. Mostly Harmless by Douglas Adams
6. Harry Potter and the Order of the Phoenix by J.K. Rowling (audio)
7. Harry Potter and the Half Blood Prince by J.K. Rowling (audio)
8. Heraline Barbin: Being the Recently Discovered Memoirs of a 19th Century French Hermaphrodite
9. Breakfast in the Ruins by Michael Moorecock
10. The Hobbit by J.R.R. Tolkien (audio)
11. Lord of the Rings Trilogy by J.R.R. Tolkien (audio—I'm including the three as one because they aren't unabridged)
12. When You Are Engulfed in Flames by David Sedaris (audio)
13. The Nonexistent Knight by Italo Calvino
14. The Cloven Viscount by Italo Calvino
15. If on a winter's night a traveler by Italo Calvino
16. PNIN by Vladimir Nabokov
17. Player Piano by Kurt Vonnegut (you can read a really well put review of this here)
18. Die 13 1/2 Leben Kapitän Blaubär by Walter Moers (audio)
19. A Game of Thrones by George R.R. Martin
20. A Clash of Kings by George R.R. Martin
21. Issues 1-6 of The New Escapologist
22. A Storm of Swords by George R.R. Martin
23. A Feast for Crows by George R.R. Martin
24. Mythmakers and Lawbreakers by Margaret Killjoy
25. Songs of the Doomed Gonzo Papers Volume 3: More Notes on the Death of the American Dream by Hunter S. Thompson
26. My Mother Wears Combat Boots by Jessica Mills
27. PM Press Outspoken Authors: Ursula LeGuin, The Wild Girls by Ursula LeGuin
28. Die Stadt der Träumender Bücher by Walter Moers (audio)
29. Eragon by Christopher Poalini (audio)
30. Dr. Bloodmoney by P.K. Dick
31. Coraline by Neil Gaimon
32. I, Robot by Isaac Asimov (audio)
33. The Collected Stories of Philip K. Dick Volume 3: Second Variety by Philip K. Dick
34. Love and Garbage by Ivan Klima
35. Our Tragic Universe by Scarlett Thomas
36. The Life Within by Jean Hegland
37. The Forest People by Colin Turnbull
38. Museum of the Weird by Amelia Gray
39. I'm a Stranger Here Myself by Bill Bryson
40. Pippi Langstrumpf by Astrid Lindgren
41. Native Son by Richard Wright
42. Schrecksenmeister by Walter Moers (audio)
43. Pippi Langstrumpf geht an Bord by Astrid Lindgren
44. The Essential Hip Mama: Writing From the Cutting Edge of Parenting edited by Ariel Gore
45. When You Are Engulfed in Flames by David Sedaris (audio)
46. Second Nature by Michael Pollan
47. All Fires the Fire by Julio Cortazar
48. Real Food for Mother and Baby by Nina Planck
49. Wise Woman's Herbal for the Childbearing Year by Susan Weed
50. His Mouth Will Taste of Wormwood by Poppy Z. Brite
51. Rumo by Walter Moers (audio)
52. Spiritual Midwifery by Ina May Gaskin
53. The Family Bed by Tine Thevenin
54. A Dance With Dragons by George R.R. Martin
55. The Continuum Concept by Jean Liedloff
56. Unconditional Parenting by Alfie Kohn
57. Das Labyrinth der Träumenden Bücher by Walter Moers
58. Ina May's Guide to Childbirth by Ina May Gaskin
59. On the Road by Jack Kerouac
60. How to Be a Woman by Caitlin Moran
61. Foxfire Volume 1
62. The Birth Partner by Penny Simkin
63. What to Expect When You're Expecting
64. Ensel und Krete by Walter Moers (audio)
Photo (cc) flickr user Shawn Calhoun
If you want to link up to the year in books party, click the tool below to add your link or to view the links others have added. For some reason my wordpress version doesn't let me display them within the post. The party will be open for new link addage from now until January 9th at noon (in Germany).