the third wagen has landed (seeing is believing)
We interupt your regularly scheduled report on the 2013 World Fantasy Convention to bring you OUR NEW FUCKING WAGEN.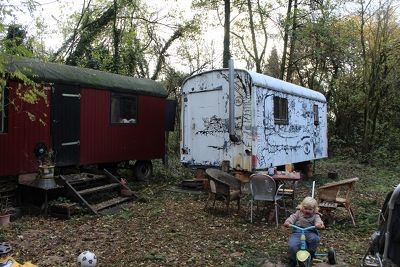 Holy shit. It is finally here. The work is finally done. We sold cursed (that's pronounced curse-ed) Wagen to someone else, and then *magic* bought this one from a good friend. Holy holy shit.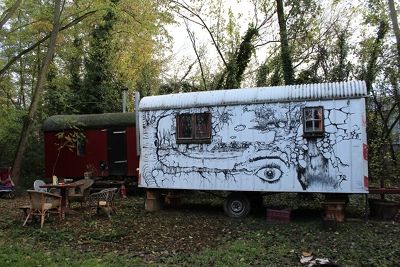 It is never easy to move a tiny house, but this particular move was easier than most. We spent the day before Day Zero (Moving Day) in Mainz getting her ready. She had been our neighbor for something like four years. We had hung out in her and slept in her when we'd stopped by. There was a lot of shit to get out of the way, but our old Platz-mates cleared our path (ten trazillion high fives for everyone who helped with that). Still, it took a hand or two full of hours to get her ready and moved and parked out on the street, ready to click onto the truck that would pull her home early the next morning.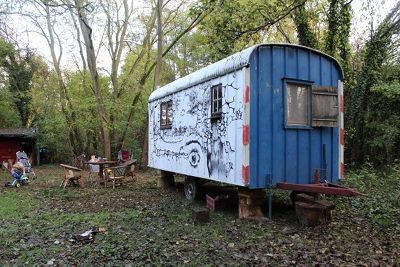 The Beard got up at 4 am (there's been a lot of 4 am going around, huh?) to ride out with the driver, a friend, to pick her up.  They were back by 9 am, barely an hour after Pickles and I had gotten up.  Go to sleep with a house one size, wake up with a new addition.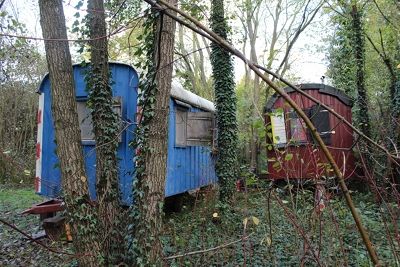 You'd think that that was when the hard part was over. We parked her on the grass and waited for another friend to come by to drive the tractor that we would use to put her in her place. But it turned out that the tractor was broken. Surprise!
After quite a bit of tinkering around, we decided to do it the old-fashioned way. We called some friends and rounded up a handful of Platz-mates, and we pushed the damn thing by hand. It's hard to push a trailer with only one axel by hand: you have to hold the thing upright and push at the same time.  There were ten of us.  It was enough.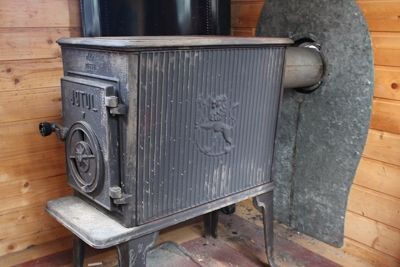 Now she's in place, ready to be turned into a kitchen. My head is full of plans and ideas and paint and cabinets But instead I'm getting ready for a two-month trip to the United States. (We leave on Wednesday.) I guess the kitchen will have to wait.  But, still, isn't she purdy???  Swoon.  So much to look forward to.