the second wagon i ever loved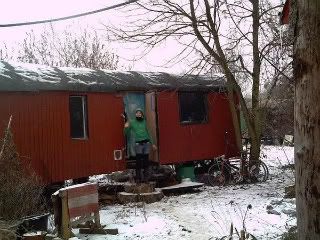 When I met the Beard, he was living in the guest trailer of the Wagenplatz where we now both live—a tiny three meter by the length of a bed, metal-sided number. There was a desk, a wood stove, and a shelf across the right-hand wall. He didn't own a lot—he probably had less than those simple living folks' prescribed 100 things completely by accident—and it was a cozy place to spend an evening. When you spend most of your time outside and it is summer, it doesn't really matter how small your room is. But when there are two of you, and one of you owns a whole lot more than 100 things, well, you move out the guest trailer and into a seven-meter number you buy from a resident who is moving on.
Bit by bit my things traveled from Frankfurt to Mainz. I dragged two long rectangular office cabinets with sliding doors out of the trash, sanded them down, painted them blue, and stacked them one on top of the other so our clothes had places to live. That was my first trash renovation project, and my first time using any sort of power sander. When I think back to how frustrating I found the whole experience and how long it took me and then look around at my finished wagon ship, well, I have to chuckle at the expense of that old version of myself.
Shelves already hung on the wall housed my books, and soon a heavy wooden shelf joined them, partitioning off a writing area in one of the reincarnations of our floor plan. I carried a wooden desk (with one of those fancy tops that you can rig up at an angle for drafting) the 2 km home from the video store when I found it outside someone's house, not willing to risk running home for a handcart and finding it gone. Neither of us owned any furniture, but bit by bit the trash provided everything we needed, from the blankets to the couch.
You can read about the first wagon I ever loved here.