the peanut gets shelled: a home birth turned hospital birth turned c-section delivery
So here goes folks, Baby Pickles' (uterine code name: Peanut) birth story in all its gorily (well, not really, they didn't actually let me watch the operation) detailed glory.  May seem a little personal for the internet (and warning the tmis start in the first paragraph), but I LOVED reading other folks' birth stories on the web during my pregnancy, and I wanted to give my own four cents back to the virtual birth-blab community.  If this sort of thing is totally not your bag or if you are a particularly sensitive brand of pregnant right now and/or might be bothered by a bit of a rough obstacle/complete melt down around the pushing bit of the story, I'd recommend that you don't read it.  Go read this instead.  This birth story has a happy ending, but it's not entirely peaceful.  Otherwise, onward!
labor at home
Friday morning I wrote an e-mail saying that I didn't think labor was happening that night.  But by evening, when the rocks that had been in my intestines for weeks turned to lava and made their exit, I was sure that I'd been wrong.  It was how a lot of the birth stories I read began.  The Beard and I watched an episode of Dexter, and I kept my mouth shut.  I didn't want to jinx it by saying it out loud, but I cleared off my dresser and set up my computer (where my playlists lived) just in case.
The Beard fell asleep early, and I watched episode after episode as the Braxton Hicks turned into real contractions.  As each came and peaked I stood, leaning against the shelves that house our clothing and television, chanting to myself in a whisper "relaxrelaxrelax relaxrelaxrelaxrelax."  I wanted to let the Beard sleep for as long as possible—he'd worked late the night before and needed to catch up—so instead of waking him up to start timing contractions, I searched the internet for a timer.  Bingo.  They were coming every two to four minutes and lasting for about 40 to 50 seconds.  Oh.  Oh!  That's like, umm, serious.  Shit.  Shit!  It was 2 am, and I'd only been having "real" contractions for about a half hour.
People keep asking me what contractions feel like, and I was annoyed as hell for the lack of concrete description available in my reading beforehand.  (And forget getting any real description of birthing pain in any of Ina May's books.  If those books had been my only impression of birth, I would have been pissed to find out how it really feels.  Hint: In no way psychedelic.)  Anyway.  So what does a contraction feel like?  Well, a little like period cramps, except concentrated, more.  They are like no other kind of pain I've ever felt (though just different, not the worst), but if you could imagine the cramps you get on each side of your abdomen during your period joining together to create a larger, unified ball of pain, that would come close to how I experienced them.  Painful, but totally manageable.  Thank cod.
It might have been 3 am when the Beard woke up.  He looked at me and asked me if I didn't think I could just try to sleep.  I laughed.  "Umm, no I don't think sleep is an option any more," I told him.  "I'm having contractions every two to three minutes."  He didn't seem to believe it at first, but after a few more sleep-smeared minutes he trudged out of bed and off to the kitchen to make some coffee.  I continued my ritual of leaning against the wall through each peak.  When he returned we timed about fifteen minutes of contractions together, and he started getting things set up for the birth (one table moved, another cleared off, candles set up and lit).  Around 4 am we called the midwife, who mumbled something into the phone and hung up.  We assumed she was on her way and went back to dealing with my peaks.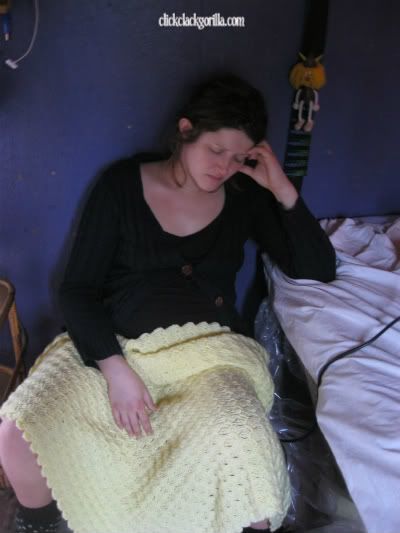 During the next hour I started getting tired—standing up for each contraction was too much.  I had been vocalizing through each contraction for the last hour or so, but found that holding the Beard's hands and looking into his eyes while we breathed together and I vocalized on the exhales worked much better.  So I laid on the bed on my side (despite this not being the most comfortable position for coping), we dealt with each peak together, and I was able to rest a little in the few minutes between each contraction.  The midwife arrived just after 5 am.  (Hereafter known as Clara.)
When Clara arrived, she crawled into our bed and strapped on the heart monitor (the kind you can see me wearing in the next picture) to check out the baby's heart rate and the intensity of my contractions.  They were "this baby is coming soon" contractions, and Clara told us later that she'd initially expected that we'd have that baby out in three or four hours tops.  But!  Alas!  My cervix was not opening.  When she finally checked it around, well who fucking knows when, but I think it was light again outside, it was at a measly two centimeters.  The exam hurt so much that I practically climbed backwards up the wall trying to get away from the pain.  (Which makes me wonder if it was the pain that made me close up or if it hurt because I was still so closed.  Food for thought.)  Clara poured some homeopathic something or other into my mouth to give me longer breaks between contractions, and there was an hour or so when they weakened and I managed to doze off between each peak.  Aaaand I managed to throw up all over the bed before we'd covered the mattress with plastic.  Whoops.  Note to self: don't put that part of the preparation off.
More time passed.  There were more contractions.  I moved onto the birth ball so I could be upright but rest between the pains.  At some point I played half of my "good mood" playlist before turning it off.  Clara dozed on a stool next to the bed.  The Beard took a coffee and bathroom break and Frau Doktor came over to take his place.  I found contractions easier to deal with looking into her eyes than the Beard's.  Often his eyes were mirroring back my own pain, which I did not want to see looking back at me while coping (I eventually told him this and he made a point of looking peaceful thereafter).  Her eyes were full of empathy, perhaps simply because as a lady she knew her body was capable of doing this to her too.  I didn't like closing my eyes during the peaks because it made me feel like I was trapped inside my body, alone with the pain.  Through the eyes of another person I could come outside of myself and escape it.  The contractions remained as constant and intense as they had been from the beginning.  Clara gave me a suppository meant to help soften my cervix and help it open and left to get some breakfast.  But when she returned—after seven hours of labor—my cervix was still at two centimeters.
"I don't know what the problem is," she told us, "but the intensity of your contractions doesn't match up with the state of your cervix, so I'd like to go the hospital.  When something doesn't add up, it usually means that something is wrong."  I thought I would need a moment to mourn the loss of our home birth, but I didn't.  I had picked Clara because of her birth philosophy, and I felt confident that any decision she made would be the same decision that I would have made were I the midwife with 35 years of experience.  Looking back now I'd add that this is the most important aspect in having a birth deviate so far from your own ideal without any feelings of regret, so ladies planning your births, find a midwife or a doula who you trust implicitly to be your voice!  It may be the single most important bit of preparation that you can do.
"If we go to the hospital, I don't think I'm going to be able to say no to painkillers," I told Clara, while the Beard scrambled around packing (I had already packed things for the baby and some of the things for the hospital, but didn't have my own things—wallet and clothing and the like—ready), and somebody got the key to the car we'd be taking.
"And I don't think that you should," she replied.  Well, ok then.  I'd read about pain killers helping ladies rest or relax, helping them achieve a birth without surgery, so why not?  I waddled out to the car.
We only live about ten minutes from the hospital we'd chosen (there is another hospital even closer, but one with a pretty bad reputation as far as natural birth philosophies go), so I only had to deal with three contractions in the car.  I remember bracing my feet against the floor and moaning at a stop light, wondering why the hell anyone would chose to get in a car feeling like this without complications to force them into it.  The Beard held my hand from the backseat, but I couldn't see his eyes for the needed escape.
labor at the hospital
Outside of the hospital I had to sit down on a concrete planter to deal with a contraction, and two women having a smoke heard me moaning and asked if they should call someone.  "No, no, thanks," I told them.  "The contraction will be over in a minute."  And it was.  They grinned giddily at us, maybe both mothers themselves, and we wound our way to the labor and delivery rooms where a nurse hooked me up to a wireless heart moniter while the Beard fielded paperwork at the front desk.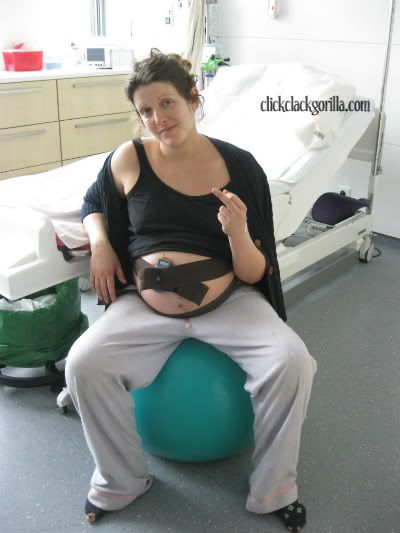 Someone put a hep lock in my hand (that's the perma-IV hook up you get in the hospital so that you can be quickly attached to any meds you might need), and Clara hooked up a bag of fluids and a bag with a few drops of cervix softener (heh, every time I say it that way I think of fabric softener and chuckle) and a whole bunch of a light pain reliever that she said would make me feel like I'd had a couple of glasses of wine.  It did.  It was excellent.  My cervix sprang open like a jack-in-the-box.  (Roughly put.  Over the next four or five hours it opened completely.  Time flew.)
Drunk for the first time in nine months!  As much as I'd hoped to get through the birth without any pain meds, I'm here to tell you: these were frickin' awesome.  (I hadn't even realized that there were grades of pain relief below epidural.  Sweet!)  Considering the fact that Clara only used a few drops of meds to help my cervix, it may have actually been the pain relievers that finally helped me relax enough to let my cervix open.  Either way things were back on track, and I spent most of my contractions laying on the bed on my right side, holding the Beard and Frau Doktor's hands and grunting like one of my favorite characters in Tetris Attack.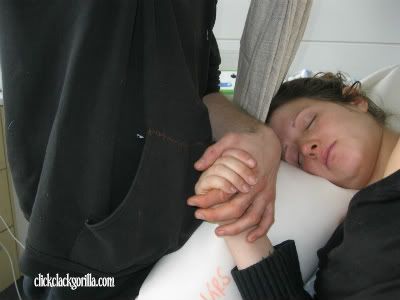 It must have been about 2 pm when my water broke.  I was still laying on my side, and I was convinced I had just pissed the bed.  (But where are all the fluids coming? from I remember wondering, I can't have drank enough for that kind of a piss.)  And then it happened again, and again.  "I think I've just pissed the bed," I announced.  I may have even laughed.  Everything felt surreal and absurd.
"You know you can get up and go to the bathroom if you want," Clara told me.  Then she took a look at the fluid.  "But this is your amniotic fluid.  Your water just broke."  Well shit.  If I remembered correctly, that meant pushing was about to start.  We were in the home stretch.  And now for the hard part.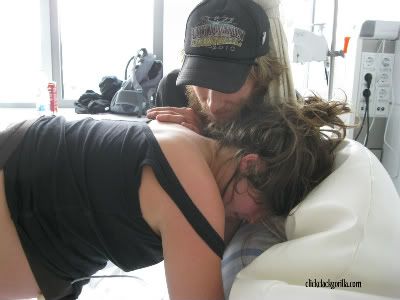 Clara checked my cervix and after another half hour (maybe?  ten minutes?  time was meaningless at this point) said I could safely push.  I did.  I felt baby head pressing down near my vag, and I felt her slipping back in.  Which must have been when she jammed her head against my pelvic bones because she never came that close to a natural exit again.  I pushed and pushed.  Nothing happened.  Clara directed me into a few different positions.  I pushed and pushed.  Nothing happened.  My body started intensifying the contractions to try to get Peanut out.  My vocalizations became screams.  Clara—who had always complained that we weren't loud enough when we practiced during class—actually told me to try to be a little quieter.  "But it feels. GOOD. TO BE. LOUD," I spat/screamed back.  I can only guess that she just didn't want any doctors running in and sticking their noses in our business prematurely.
I pushed, I tried not to push, I pushed, nothing happened.  Things became a blur.  The pain was becoming unbearable as my body continued to intensify the contractions, futilely.  Every time I pushed I was pushing baby head against pelvic bone.  Clara tried to free Peanut's head with her hand.  She gave me meds that should have stopped my contractions for ten minutes or so to give me a break.  They didn't work.  Pushing felt horrific.  Trying not to push was worse.  I said my pain killer password (the Beard and I had a code word so that I could swear and complain, but he would know when I meant business about needing pain relief).  I was falling apart.
The doctor on duty, a real unfriendly bitch with nothing behind her eyes, came in to check the baby's vital signs.  After fucking up the test twice (the one where they screw a thing-a-ma-bob into the baby's scalp, the scab from which still hasn't healed completely by the way), she determined that Peanut was distressed.  Heart rates were sinking.  My contractions were useless and getting worse.  Someone shot me up with some more contraction blocker.  It didn't work.  I was desperate, barely coping.  The doctor recommended a c-section, and Frau Doktor sent her out of the room so we could consult.  Clara said she would recommend the same.  She had tried all of her tricks—short of giving me an epidural to give me a break and a fresh start—but didn't think it would solve the problem (that Peanut's head was caught on my bones and not budging), and considering the stress signs the baby was showing…  I said yes.   At that point I would have sold my soul to Monsanto to make the pain stop.
the c-section
Once the decision was made, everything slowed down.  Doctor's came in to read me lists of horrific risks that I was to sign off on before the operation.  I couldn't care less, and I could barely manage a signature.  If we were going to do this I wanted to do it NOW, wanted the pain to stop NOW.  The contractions kept coming.  Finally I was wheeled off to the operating room, and the Beard was directed to the scrubs closet.  Four more doctors jabbed me with medicine to make the contractions stop, completely ignoring the fact that each time they did so I told them that I'd already had quite a lot of that medicine and THAT IT WASN'T FUCKING WORKING AND WHERE WAS MY FUCKING HUSBAND???!?!  Still having massively painful contractions, but left alone to deal with them by myself in a room full of bustling doctors I was a total fucking mess.  The Beard followed my screams into the operating room.
I hadn't removed my belly button ring, and all the docs in the room started freaking out when they saw it.  "She has a belly button ring!" they repeated frantically, once again ignoring me, and the fact that I was telling them that, no, they couldn't remove it without pliers and that if they would just get my fucking husband we had some with us and could take the fucking thing out with them. And WHERE THE FUCK WAS MY HUSBAND ANYWAY???!?  No one paid any attention to what I was saying.  Minus three hundred points for the medical community.  And when Clara arrived in her scrubs they gave her shit too.  "Sorry," she told them, "but I don't take babies out this way."  Her job is a constant battle against over-medicated births and oft-pointless hospital regulations and bitchy doctors (note: doctors ask you to take out piercings before an operation because if they have to revive you with those shock things, any metal on your body will burn the skin around it).  Strong lady.
I heard the older woman in charge of the operation saying "It doesn't matter, we found mumblemumble in her blood, we need to get going."  (Still haven't found out what it was they found in whose blood.)  The anesthesiologist finally stuck me in the back (I had a spinale PDA, which the dictionary is telling me is called a spinal epidural in English).  My legs went numb, and the pain was finally gone.  It was glorious.  Someone brought in what looked like a race-car seat with straps—that was for the Beard, and the straps for the birth partners who pass out when they look behind the operating curtain.  The Beard had arrived and was holding my left hand.  I could feel people groping around in my innards and wanted to watch (with a spinale you feel some pulling and pressure, but no pain).  Now I'm glad I don't have those images burned into my brain.  I had no idea she was even out of my stomach when there was a cry from the right corner of the room.  Our baby our baby!  I couldn't believe it.  At 3:36 pm. after about fourteen hours of labor, Peanut was on the outside, had become Baby Pickles.  Wow.
I turned my head to the right and watched Clara weighing her across the room.  (She got a 9 on the initial apgar, and then two 10s.  I was impressed.)  Then Clara laid Baby Pickles on my chest, and we blearily gazed into each other's eyes, hers crusty, mine probably crazed.  I cried, and sang her all her favorite womb songs.  It was hard to focus on each other from that close (the curtain was hung just below my ribs, so the baby was about three inches from my face) but it was amazing and even more surreal than anything that had come before.  After five, maybe ten minutes, the Beard went with Clara and Pickles to the delivery room we had started in while the doctors finished stitching me up.  At 4:15 they wheeled me out, flipped me from one bed to another with a crazy machine lift, and Clara pushed me the room where Frau Doktor and the Beard were chilling with Baby Pickles, who was wrapped up in a bright green towel.  Never in my life have I ever been so happy that something had ended, or begun.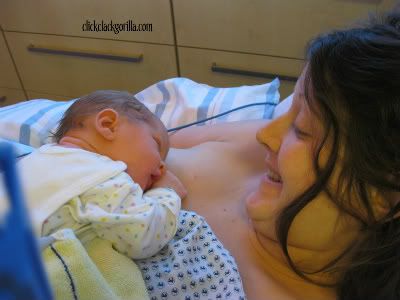 If any of you have your own birth stories online, I would love it if you posted a link in the comments.  There are so many amazing birth stories on the internet.  I want to read them all.