new magazines for new escapologists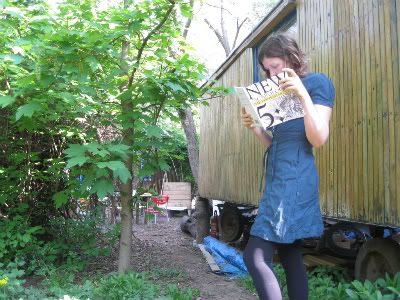 When I was a kid I subscribed to the magazine Ranger Rick. Though I have no more than a general recollection of the magazine's contents (nature and animals and "saving the environment") I can only assume that reading it every month had some effect on my environmental consciousness because when I finished each issue I would feed the pages to the dog. This, I thought, was a way to recycle paper much more satisfyingly direct than sending it off to the recycling plant. Feed the dog a page, get a pile of poop in the garden. Our dog also liked to eat paperclips and thumbtacks, but they came out the other side intact, which, perhaps, provided an even more important lesson in environmental consciousness. I once fed the same dog an entire issue of National Geographic in one sitting.
Since then I've dabbled in magazine readership without making any lasting connections. I've read my share of Rolling Stone and CMJ standing beside the racks at Borders. I have a pile of Rolling Thunder issues on my shelf that I've never read. I have a squeaky new subscription to Yes! Magazine because I'd like to write for them. And tragically, but predictably, as a teenager I had a subscription to Seventeen, which I read religiously and then removed from my life with equal intensity after finding myself thoroughly over pubescent acceptance mongering.
And then I found The New Escapologist. The New Escapologist! I read their blog and I ordered an issue of their magazine. That issue came in the mail, and after I read it I wanted to scream their name from the rooftops. THE NEW ESCAPOLOGIST! It's a magazine so good that I immediately went to their website, ordered every issue they've ever published AND subscribed. I may not agree with every article (this month's issue is about Bohemians, with whom I have my qualms), but every article is brilliantly written. That's right, BRILLIANTLY. Intelligent writing, humor, and articles covering everything from beards to Bohemian escapology? Please excuse me while I retire to the powder room for a cold shower.
What is Escapology?
It's about deftly avoiding the potential traps of modern life: debt, stress, unrewarding work, bureaucracy, marketing, noise and over-government. It's about embracing freedom, anarchy and absurdity. It's about overcoming miserliness, passive-aggression, mauvaise foi and submission. Escapology asks you to consider the circumstances in which you would most like to live and encourages you to find a way of engineering them.
Which is to say, these folks are Gorillas. Sure, we have our differences, but I like that. Anarchy, absurdity, and freedom? Now those are three words I can live by. Tattoo them on your chest, put them in your pipe and smoke 'em, and visit their website immediately and order a subscription of your own.