the new escapologist strikes again, prints article, wins hearts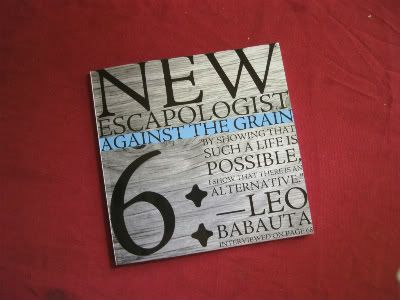 Yihaw, yip yip, peng peng! I've got an article in the new issue of magazine New Escapologist! Though I am frequently being "published" online, there really is a special feeling that comes with seeing your name and your words printed on paper. As good a reason for two exclamation points as I can think of. !!
New Escapologist is a magazine about leaving behind a world in which you do what is expected of you (whether it be the 9-5 job or the picket fence) and making your life the day dream you used to have by the coffee machine in the break room. I haven't read issue six just yet, but if it's anything like the other five issues, it's full of high-quality writing with stimulating, playful content on the subject of escape. I highly recommend it to gorillas everywhere. If you'd like to buy a copy of issue six and read my own tale of escape from office life, click here. They also run a lovely blog that you can read here.
To celebrate publication, I'm giving away a copy of New Escapologist Issue 3: The Practicalities Issue (remember: this isn't the issue my article is in). So if you want to get a taste of what the magazine is all about and if you dream of living simpler, living freer, and adding "ers" inappropriately to words, then leave a comment on this post about your own escape (or escape plans). Or just leave a comment saying you'd really like to read this magazine. Either way your comment will enter you to win, and in a couple of days I'll pick one of your names out of a hat and send you the goods. Consider it the glass of celebratory champagne raised in your direction.