the marauder's guide to frankfurt am main
Frankfurt. She's a classy lady, at first glance. She's the kind of lady who wears little black dresses and high heels and rhinestone necklaces and stays out all night drinking expensive cocktails with bankers in five-star restaurants, one of the neuveua rich. With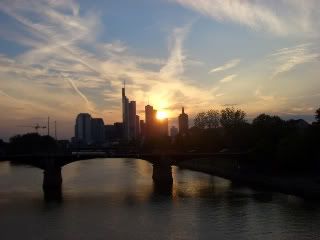 her twin blue-and-yellow plastic euro monuments (the first fronting the state theater, the second between the airport and the autobahn), with her banks and her guidebook nickname ("Mainhatten") she'd have to be a woman obsessed with money, designer clothing, expensive jewelry. Wouldn't she? Wouldn't she?
But she leads a double life, and she's got more dirty secrets and ripped stockings than she probably wants you to know about. She's a disheveled red-headed junkie shooting up between her toes in broad daylight in front of the train station. She's sitting on the hot-air vents in front of the Alte Oper with the Zeil punks, drinking cheap beer and rolling her own cigarettes. She's spray painting a stencil on the wall in Nordend in the middle of the night, looking over her shoulder. She's at the Au Fest, passed out in the bushes. She's in the black bloc, protesting fur, at the Nachtanzdemo, dancing in the street.
Frankfurt's Marauder's Outposts
The Au (In der Au , S-Bahn Station Rödelheim Bahnhof, 5-10 walk)
The Au has been squatted since June 4, 1983. Host to a weekly Thursday-night vokü, punk rock concerts (5-7 euros admission), and the infamous summer Au Fest and a soccer tournament. The concert room is just small enough to be cozy, just dirty and cheap enough to be punk rock, with a free Fußball table and unisex bathroom.
www.au-frankfurt.org
Café ExZess (Leipziger Straße 91, U-Bahn Station Leipziger St)
A graffiti-covered autonomes center with an infoladen and lending library, concerts (punk rock, post rock, folk), theater, pub nights, and political lectures.
www.infoladen.de/ffm/exzess.htm
Dreikönigskeller (Färberstraße 71, walk over the Eisenersteg and take a left, the venue is about a half block on your right)
A regular old commercial venture, but if you like little blues/rockabilly/garage numbers, the best venue in town. A tiny cellar room with red rounded ceilings, a pint-sized stage (complete with Elvis shrine), and rock and roll music on the turn tables.
www.dreikoenigskeller.com/aktuell.htm
Raumstation Rödelheim (Auf der Insel 14, S-Bahn Station Rödelheim, 10-15 minute walk)
Though I'm not personally a fan of the "sterile youth center" feel of the space itself, there are good folks doing good things here every damn week. Monthly voküs, concerts, parties, lectures.
www.insel14.de
Bauwagendorf Borsigallee (Borsigallee 26A, U-Bahn Station Borsigallee)
Frankfurt's largest wagonplatz (think gypsies meets politically radical meets crust punk meets autonomous community living in wooden boxcar-esque structures) with a Sunday pub/cinema night and the occasional concert.
Club Voltaire (Friedrichstraße 43, Station: Opernplatz or Hauptwache)
Open mics, politcal lectures, and a space that tends to be sardine-packed with liberal students, wearer's of long dreadlocks, and listeners of reggae and indie rock.
IVI (Kettenhofweg 130, Bahn Station Bockenheimer Warte)
Though run by the, in my opinion, rather-questionable "Anti-Deutsch" movement, this house offers a large and continous range of politically charged concerts, film nights, lectures, and parties.
ivi.copyriot.com/media
Bike Polo (Börse, U-Bahn Station Hauptwache, Wednesday nights)
Every Wednesday night round about 8 pm you can find a gaggle of bike people sitting in front of the stock market building drinking beer and playing polo on pretty bikes. If it's not Wednesday and you want to find a bike messenger, they can usually be found sitting on the steps in front of the opera house between jobs. If it is Wednesday and you can't find polo, they sometimes play in front of the State Theater over at Willy Brandt Platz.
Critical Mass (Opernplatz, first Sunday of every month, 2 pm)
Take back the streets and get a damn good bike tour of Frankfurt's bits and pieces.
www.critical-mass-frankfurt.de/joomla/index.php?option=com_content&task=view&id=1&Itemid=29
Dumpsters (Behind every grocery store, everywhere)
The diving in Frankfurt is good, especially in the richer quarters. Extensive exploring will leave you drowing in obscene heaps of organic delicacies. Tuesday nights cruise around Nordend for excellent "big trash" scrounging, put out early for Wednesday morning pick up. The Tafel is a beaurocratic step-mutant of Food Not Bombs and usually distributes food once a week. (Last I heard, Thursday afternoons at ExZess, ask around to confirm.)
As for the old railroad bridge, the abandoned beer factory, and the best playground of all time, you're going to have to find them for yourself. And on the way, you'll probably stumble on a couple more of Frankfurt's dirty, dreaded little secrets. For everything I've forgotten and the rest of the Rhein-Main area, there's Untergrund (http://www.copyriot.com/untergrund), the region's event calendar, also available on paper at most of the locations listed above.
(Photo by Gisi, I think.)