the first wagon i ever loved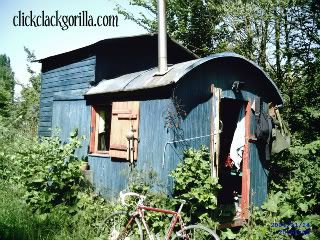 When I returned to Frankfurt after six months of futile novel-writing in Dresden (futile, because of the eventual simultaneous crashing of both my regular hard drive and my back up hard drive), I didn't have a new apartment lined up. One thing led to another, and I eventually ended up living in the trailer pictured above: The little old woman who lived in a shoe.
That first trailer was a guest trailer, part of a community of 40(ish) folks living in wooden trailers and metal containers and converted UPS trucks. We had no grid electricity, but we rented a room in the neighboring parking garage where there was a water faucet (for drinking water), a couple of plugs (where cell phones and lap tops often lay piled and charging), and two washing machines.
All the permanent residents had solar panels to illuminate their nights and power their stereos, but the guest wagon did not; I read by candle light and had a headlamp. I listened to cassette tapes on a battery-powered Walkman/dictation device. Kinski Reads Villon and an Unfinished Business mix tape in steady rotation.
Peeing you did outside, or maybe in the structure next to the pub building (an out house with a pebble- and sand-lined floor). Groups of people had compost toilets that they shared, and others walked across the street and used the bathroom attached the the building supply store for the after-coffee bathroom visit.
The trailer was small—probably about four meters by 2 meters 30—and a bit rugged, but it was easy to fall for. A small counter top for preparing food (though I used the kitchen trailer for my cooking), a wood stove, some shelves, and a chair/step. The lofted bed was like a second room, and the ceiling above it could be opened on hinges to let in the sun and the air. Nights in bed beneath a mosquito net, days on a chair positioned in the sun.