cloth diaper diary: one year down, more than i'd like to think about to go
I failed to mention it in a timely matter, but holy shit, this happened over a year ago now.  Happy birthday, baby Pickles, happy birthday to you.
Kids' flea market season is starting up again, and as a result, Pickles now has her first pair of shoes.  Tomorrow she can walk around outside for the first time.  This will, I am sure, result in her getting completely covered with mud, but I should probably just get used to that now, huh?  But today, ladies and gentlemen, our small model is wearing a green striped top from the flea market (50 cents) and a BabyKicks premium pocket diaper with velcro closure
. The bottle is glass with a Janosch print (1 euro).  I still love that flea market prices mean that I never have to hold back when the absurd ohmygoditssocutesquee feeling takes hold of me at the sight of another small striped whatever.  This feeling does not overcome the Beard.  Hormones, man, damn them to hell.
I remain mildly obsessed with cloth diapers, their merits, and their bright rainbow of colors when on the diaper shelf.  We've started using inserts (like these
) to make the poop problem (namely, that you can't put a diaper with much poop on it in the washing machine without everything coming out smelling like absolute hell) go away (now it is just the trash can that reeks).  Some people install a diaper sprayer
on their toilet, but with out toilet being across the yard, the liners are the only option.  It is a bit annoying to have to use something disposable in combination with the non-disposables, but they involve relatively less waste and claim biodegradability.
In celebration of having done an entire year in cloth, here are two gratuitous photos of Pickles hamming around in my favorite cloth diaper to date (though the skull-and-crossbones diapers that initially glowed in the dark are only a tick behind it).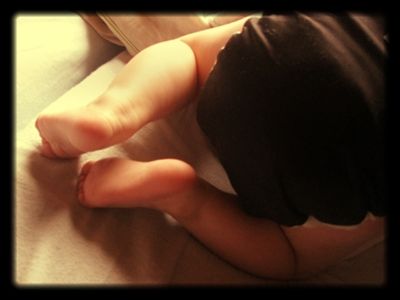 Category: Parenting, Philosophy
Tagged: alternative parenting, attachment parenting, BabyKicks, BabyKicks Premium Pocket Diaper, cloth diapering, cloth diapers, gorilla parenting, green mama, green papa, green parent, offbeat mama, offbeat papa, offbeat parent, pocket diapers, punk mama, punk papa, punk parents, sustainable parenting