thankyouthankyouthankyouthankyouthankyou!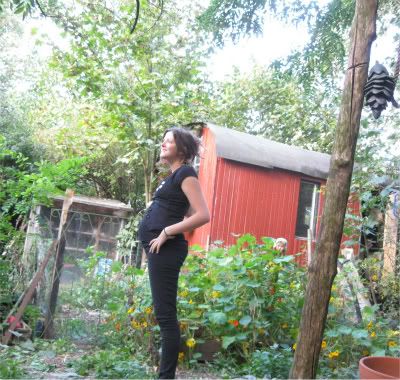 See that picture? That's me feeling all content and at one with the universe (and 20 weeks pregnant). Last week I asked Click Clack Gorilla readers if they would consider buying the Beard and I a cloth diaper from our baby registry. And you responded! So many of you responded! People I have never met in my life! Because you like my blog and my story and my writing! Well, you've done it. I'm blushing. I went from worrying that we were going to end up having to fork out a huge chunk of (imaginery) cash (that we don't have) to get Peanut in environmentally friendly diapers to being totally overwhelmed by the kindness of strangers (and non-strangers, don't think I'm forgetting you, you're frickin awesome too, but if we're friends you probably already know that I think that). I would name you all by names but maybe you are one of the few still maintaining a low internet profile. You know who you are, and I raise my cloth diaper to you.
I've spent a lot of time looking into cloth diapers, reading blogs about people's experiences using them, and browsing various diaper-selling websites lately, and I've noticed that they all have one thing in common: cloth diaper brands all have absolutely ridiculous names. Happy Heinys. Rumparooz. FuzziBunz. Bummis. bumGenius. And in Germany, Popolini. ("Popo" or "Po" is the German cutesy word for "butt" or "bum.") And I have to wonder who it is these companies think they are impressing with these names? (Though I am partial to the name "Happy Heinys" myself.) Just as I have to wonder why baby clothes all have to be printed with cutesy bullshit sayings and pictures. The only people who are going to be enjoying these objects, who are even going to be consciously aware of these objects and their names and patterns, are adults. So why design them as if they're supposed to please kids? The day someone opens a cloth diaper company called badASS will be a day on which I go shopping.
I've also realized something else. I have no fucking clue how to put on an old school cloth diaper. My mom used them, hell, people have been using them for hundreds of years, and I have never once seen someone put one on a baby (by the way, the technical term for "old school diaper" is "prefold," another fact of which I was not previously aware). So yesterday I watched a youtube instructional video and thought about how sad it is that youtube has become our main purveyor of cultural knowledge. The Beard taught himself how to play banjo using youtube videos. I learned how to put on a cloth diaper.
In another era, this would have been information that we would have learned from our community. In another era, I would have seen people taking care of babies throughout my life because I would have lived with people of all ages, not self-segregated with those of my own age, and I would have already known how to put a baby in a prefold diaper. But now we learn these things from strangers on computer screens. Modern technology sure is good at preventing us from communicating with each other directly. She says as she writes a blog. Case in point.
But I was talking about the baby registry and fawning over your genorosity. We've been given 15 diapers, two diaper covers, hemp diaper inserts, two packs of diaper liners, the Dr. Sears Baby Book, and a breast pump. And some of the diapers have glow in the dark skull and crossbones on them! Holy shit. Literally. If there was anything that could make me excited about having to deal with a lot of shit in the near future it was a glow in the dark pirate vessel.
Thing is, we still need a few more (our goal is to collect between two and three dozen to make sure that the washing machine gets a break now and again), so if you're a Click Clack Gorilla fan and want to support the site, please pretty please click over to our baby registry and buy a cloth diaper for the baby gorilla. Only eleven more diapers to go!
Keep Click Clack Gorilla ad-free! Buy the Click Clack Baby one cloth diaper!
Read more posts about gorilla mama-dom
if you do not buy our products, we will kill you
buns, ovens
possibly the future kindermobile
ramen confessions