tangled up in blue
We got married on a Friday. A coincidence born of a tightly booked Standesamt (marriage office) and an upcoming visit from long-lost American friends, it did not, as it so easily could have, lead to excessive playing of The Cure. "Our song," if we had bothered to choose one, would have likely been something like Godspeed's Dead Flag Blues or a track from Wolves in the Throne Room.
My dress fulfilled every requirement dictated by that old tome of American wedding superstition: it was borrowed, blue, old (as in vintage), and new (as in to me). But that particular superstition doesn't mean shit in Germany. (Though in an ironic twist, the word "blue" also means "drunk.") In Germany, you break dishes in front of your house for good luck the night before the wedding, and then your friends make you sweep them up with your partner while videotaping everything.
This is called Polterabend, and I am arbitrarily certain that Polter's close resemblance to the word Folter (that means torture folks) is no coincidence. Breaking the plates was amusing. If I had had my way the shards would still be laying on the pavement in a hundred brilliant colors and pieces. If I had my way we'd smash dishes outside of the house every day.
We were up early on Friday. 6:45 am and I couldn't fall back asleep. What's a bride to do? Light the wood stove and start drinking wheat beer, is what. I put on my dress and within three steps had already ripped open the front seam. I had forgotten that fancy dresses were designed for "ladies" and that ladies aren't supposed to take big "manly" steps out of their wagon homes. Not that I have been file-able under "lady" for years. I held the ripped pieces of fabric in my hand and giggled, imagining what certain people would have to say about the fact that it was my wedding day and I wasn't wearing, make-up, hair product, or deodorant.
In the house others were already putting on make-up and costumes. The Clockwork Orange crew was there in all their white-clad, baseball-bat-carrying, jock-strap-sporting glory. Karlsson was in a tight sequin dress that used to belong to somebody's grandmother, and Scissors had transformed into his blond counterpart Sandy. Frau Doktor was in her best ugly beige business suit, and her date was an American air force pilot in an enormous fur hat. Later there would be silver angel wings and ridiculous hats and a priest from the little-known Christian sect of Thomas. People would throw potatoes and rice (cooked and uncooked), onions and confetti.
We'd been planning on taking the tractor to the ceremony. It would have almost been legal, if we had piled enough vegetables in the back to convince any curious police officers that Natasha was just a farmer transporting her harvest and had coincidentally picked up an entire wedding party on her way into the center of town.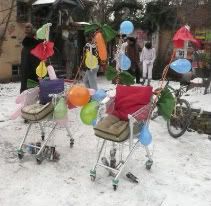 But it was cold, so we decided to take the bus—decided to take the bus, that is, until our platz-mates revealed their wedding gift: the shopping cart carriages of dumpster royalty. Welded to the side of each cart-chair was a little basket for champagne, snacks, and a half liter can of Faxe. We were wheeled to the bus stop, smuggled the carts into the bus (apparently in an attempt to keep homeless people off of public transportation, taking shopping carts on German buses was banned years ago), and landed in front of the Standesamt a half an hour early. Amen.
The Mainz Standesamt is a large concrete block located just behind the train station, and its innards are paneled with dark wood and adorned with fading plastic garlands. Being in charge of one of this culture's most revered traditions, I had imagined the Standesamt might try to foster an atmosphere and aesthetic almost anyone could enjoy, but it is a dull beige waiting room that awaits each wedding party as they wait for their appointment, and the ceremony room itself feels depressingly, cheaply corporate.
I would have preferred to get married in a dilapidated old building or a forest, anywhere but that concrete block really, but German law is firm: If you don't get married at the Standesamt, your marriage is not recognized by the government, and you gain no rights to cheaper taxes, inheritances, and hospital visits. Religious ceremonies, if a couple choose to have one, can be held later, but alone are not recognized by the German state. I might consider applauding this successful amputation of church and state, if only the government would start planning the operation to remove state from love.