tall bike!
I have been wondering for two days what I would want to write about today.  But I can't think about a fucking thing besides being pregnant and about hopefully not being pregnant anymore very, very soon.  I read things about babies and pregnancy all day (newly in love with The Feminist Breeder, by the way), and I hope the baby is about to come the fuck out of there already all night.  But I don't want this blog to only be about kids and pregnancy.  I want it to be about tiny hosues and Wagens and travel and dumpster diving and weird recycling and everything else that intersects with my life too.  But there is nothing left in me except for this baby, and until she comes out, I'm not sure what else will get past and onto these pages.
So, behold!  My tallbike!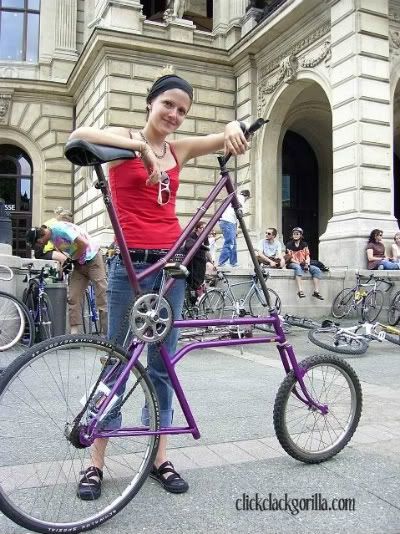 Looking at that picture is like a big serving of summer nostalgia.  The tank tops!  The need for sunglasses!  The rides aboard my purple giraffe!  Ahhhh.  Summer couldn't come back into my life soon enough.
The tallbike I built myself, with a lot of help from some awesome folks in Frankfurt.  We spent a weekend building about eleven of them.  Which we then happily paraded around the city like the little kids we all still are inside.  If you have never been on a tall bike, I am here to tell you they are smile-manufacturing machines.  You ride down the street and people stare in awe, they smile, they gasp, they take pictures, and little kids jump up and down and point.  And everyone wanting to know: "How do you get off of it?"  A question which, once answered, always results in another: "But how do you get back on?"  Both of which I am usually happy to demonstrate.  You don't take a tall bike if you have to get somewhere in a hurry.
If you want to learn how to build your own tall bike, I've got detailed instructions up right here.