suddenly things were moving so fast
Though in the meantime I've hit another rough patch, yesterday was a glorious day.
The ceiling, as it was when we started yesterday afternoon:
The final turn of the screw: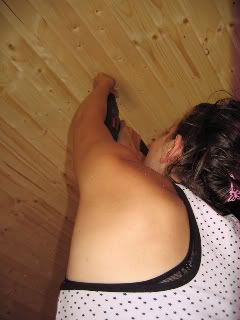 Fucking finished. Enter hail of exclamation points. Enter cartwheels. Enter tired feet and high fives: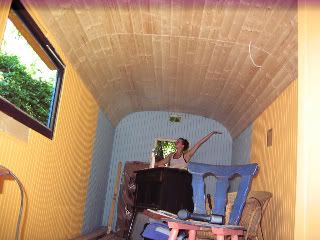 The rough spot I've hit today is that I've started sanding the floor, and that my belt sander overheats every ten minutes, and I have to turn it off. It hasn't started melting the machine's innards yet, but it has melted a couple of sand paper belts out of whack. Plan b? Be patient and do other things while waiting for the machine to cool off in the refrigerator between two foot sections of beautiful, beautiful sand-colored wood floor.
It looks like I won't be finished by my birthday after all, but I am so close that the extra few days it will take to coat the floor are irrelevant. I had sort of gotten to feeling like I would never see the end of this project. Wow.