still not crying over spilled milk, part the third
This is the third and final ramble in what has become a three-part epic about having the peditrician tell us that Baby Pickles was underweight and that we needed to give her formula and what we've done about it so far.  You can read part one here and part two here.  And before I get going, thanks so much to all the lovely folks who have commented on the first two posts.  Particularly the comments on my intial post made me feel so awesome and supported and not alone and hell yeah.  And right about being skeptical!  Because a doctor saying your baby's weight is too low is not necessarily the last word on the subject.  Because doctor's are particularly good at fear mongering.  Anyway, as usual, you guys rock.  Thank you.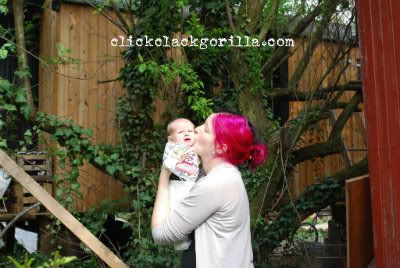 I hadn't realized.  But having kids makes you realize so many things, and what I've been particularly focused on realizing lately is how much, how seriously very very much, what we eat affects us.  I mean, I knew that.  Sort of.  You are what you eat, right?  And so I try to make sure I am not an enormous vat of white sugar, Frankenstein plants, antibiotics, pesticides, and partially hydrogenated vegetable oils.
But did you know that what we eat and how we eat it can change the way we look?  Not in a "he's fat and she's thin" sort of way, but in a fundamental "this is the shape of my jaw" sort of way.  For example, if you breastfeed, your baby's jaw will develop differently than if you don't (or if you don't for very long).  And of course a lack of various nutrients (or the presense of various detrimental substances) can result in smaller people, smarter people, allergic people, and on and on.  Realizing this as I'm watching Baby Pickles grow has shown me how much more of what we eat we really are.  So much more than I ever really was able to wrap my head around.  Everything.  Everything.
Which is why breastfeeding Baby Pickles for as long as it is mutually acceptable for both of us is so important to me.  Which is why I was hoping to never have to give her a drop of formula.  But, whoops, too late.  As I have mentioned here and here.
The first time I fed Baby Pickles formula was a Saturday.  After a week of up-and-down weights that ended with a cumulative gain of either absolutely nothing or a 20 gram loss, depending on which scale you were willing to believe, I didn't want to wait any longer (it is taking all my self control not to make a wait-weight pun here, badabing!).  I still wasn't convinced that the problem was that my body wasn't producing enough milk, couldn't produce enough milk, but I didn't want Pickles' health to suffer for it in the meantime.
More worrisome to me had been the thought of having to give Pickles a bottle.  Because babies don't have to suck as hard on a bottle to get at the milk, they often start to prefer the bottle to the breast.  And ruck-zuck, as they say in German, you've got yourself a baby who refuses to breastfeed.  I wanted to give Pickles as much breast milk as I could—the stuff is pure magic I tell you—and so I didn't want to run that risk.  That's where the supplemental feeding contraption came in.
A supplemental feeder is a kind of spacey device designed for just this purpose.  It consists of a plastic bottle that you wear, upside down, on a string around your neck.  Two tiny tubes are attached to the head of the bottle, and these you tape onto your nipples so that the end of the tube sticks out just slightly more than the nipple itself.  First you let your baby drink breast milk, and when you're empty, you open up the tube and let her drink formula.  That way she only drinks as much formula as she really needs, and she still has to suck just as hard to get it.  I.e. laziness doesn't come in and ruin your breastfeeding relationship, and you don't have to think too much about how much milk you're giving her.  She gets to decide.  Another pro for the supplemental feeder.
So we started with one bottle a day.  In two days Pickles had gained 130 grams (about what she had gained per week previously). Using the contraption was pretty easy, and Pickles drank about half of each bottle offered to her.  Then she drank the whole bottle, slurping the last sips with that straw-at-the-bottom-of-the-soda-cup noise.  Then we offered her two bottles a day.  Now we're back to one, which she is only drinking half of.  If there is any information to be gleaned from this (non) pattern, I don't know what it is.  I am glad, however, that it appears the problem lies with me and not with her.  *Cue more detective work.*  Because I'm still not willing to believe this is an unsolvable issue.
About a week into formula feeding, a good friend with a nine-month-old baby gave me a call.  She knew about my milk problem, had been with me to La Leche League meetings, even lived in a Bauwagen herself.  "I had an idea," she said.  "Why don't I just pump milk for you to give to Pickles?  I have more than enough."
I grinned.  "Really?  You would do that?!  I have to admit the idea had already occured to me, but I didn't ask you about it because I thought you might think it was weird.  Or too much work."
"No, I mean I don't want to do it forever since I want to get rid of my milk eventually," she went on, "but if you're only giving her one bottle a day that should be no problem.  As long as I don't have to clean the pump."
And so Baby Pickles got her own wet nurse (technically it's a milk share since she's not feeding at another breast, but tomato, tomatoe).  There are a lot of people out in internet land who seem to find the concept horrifying, disgusting, wrong.  But to me it feels natural.  What would someone with a milk supply problem have done 200 years ago?  1. Not been freaked out by worried doctors obsessed with charts.  2. Not had her baby constantly weighed.  3. Probably only noticed a weight issue if it was very very serious.  And then 4. Looked for a wet nurse, if she could afford it, or cross nursing with a mother friend.  Did you know that royal ladies only nursed their first-born children?  It was part of the whole "you are marked for greatness" spiel.  Everybody else got farmed out to a wet nurse.  The history of wet nursing is kind of fascinating.  As is the fact that it appears to be quietly reappearing in many people's lives today.  Having a friend willing to share her milk with my baby makes my little community feel even tighter, more supportive and magical and healthy.
Unfortunately, our milk sharing hasn't worked out quite so idyllically.  First of all, preparing bottles sucks.  SUCKS.  I keep my Wagen relatively neat, but I am not in the habit of washing anything—be it dishes, my body, or a bottle—every single day.  And with baby bottles you have to wash the damn thing, then you have to sterilize the damn thing, and then you have to warm the damn food up (if using the formula, to a boil), and then you have to wait for the damn stuff to cool to just the right tempurature.  And hope that Baby Pickles is still even interested at that point.  Or hasn't been torturing you for an hour with heart-rending screams of agony.
Every time I make a bottle, I find myself wondering why anyone would choose this feeding option because "it is  more convenient."  My ass it is.  Breastfeeding: no washing involved!  A quickly moved shirt and—bam!—you're rolling!  So there's the irritation of washing the pump and the bottle.  Add to that trying to meet up with said friend, who only lives a kilometer away, every day for her to pump, at a time when both of our babies aren't screaming and hers, preferrably, is sleeping (she gets jealous about the pump being on her milk tap).
But despite the difficulties that lie in the logistics of such an arrangement, it's not the reason that Pickles is still getting mostly formula.  Nope, that's because she had horrible screaming fits of intestinal (we assume) agony every time she received our friend's milk.  So either our friend is eating something Pickles' can't stomach, or the make-up of the milk (which is currenlty tuned for our friend's nine-month-old baby) is just too hard for her almost-three-month-old stomach to digest.  Looks like we've got detective work on every front.