soup season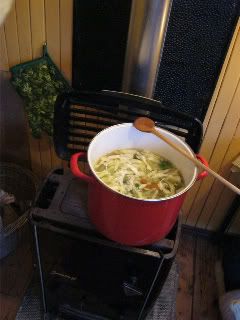 Last year I put my dumpstered tulips in the ground in December. This year the ground was already frozen solid before the grocery stores had started throwing away the plastic mesh packages of bulbs that they sell every fall. The winter this year came suddenly. At the end of November it put its big frost-bitten foot down, and it just hasn't stopped snowing since.
I love snow. I love the way it muffles sound and reflects moonlight. I love the way it dabs a bit of magic on everything, dressing up the ugly, adorning the already-beautiful. But the cold months do make having a kitchen in a separate structure a bit of a challenge. In the summer I'm glad that the fruit flies have somewhere besides my living space to buzz. But in the winter, heating a second wagon eats up a lot of wood, and since no one is sleeping in there, everything ends up frozen eventually anyway. So we have, for the most part, evacuated.
The cooking still happening in our kitchen is quick and guerrilla-esque. One person sprints in, sets a pot of noodle water on the stove, and sprints back to the warmth of an already-heated wagon, coming back occasionally to check on things, and, finally, to pick up the finished product and bring it back to a candle-lit table next to a crackling fire. It gets the job done, but it does manage to leech quite a bit of the joy out of the process.
So instead of sprinting between icy air and cheery warmth, instead of chopping vegetables with fingerless gloves and visible breath, I've moved operations into my own wagon for the winter. 'Tis the season to cook on the wood stove. Which means, in turn, 'tis the season for soup.
Wood stove cooking takes a bit more planning than your average stove-top meal. Water takes longer to boil (if it boils at all), and you can't just turn the burner down to low heat and let simmer, as so many recipes recommend. Though I imagine a metal contraption that would raise your pan away from the heat might have the same affect—anyone know what folks used to do hundreds of years ago? Perhaps people hundreds of years ago simply cooked differently. Perhaps they ate a lot of soup, as the easiest way to cook on a wood stove is to fill up a big pot with veggies (and/or meat) and water and let it simmer for days. In half a day it's ready to be eaten, and then you can remove (to refrigerate in a pile of snow) and reheat (back on the wood stove for a half hour) as you please until you've devoured every last drop.
Last week I opened soup season with an onion-curry number that I cooked on the wood stove next to the table from which I'm writing you right now. The same soup that can be seen simmering on my wood stove in that picture at the top of the post.
Because renovating this wagon took almost a year, I had a lot of time to think about what I wanted and to plan out what I'd do with the living space in minute detail before I'd even finished re-siding the facade. I thought about the frozen lettuce and fingers that embodied winter in our kitchen. And I decided to create a small kitchen space that I could use when everything started freezing. The space's main function throughout the year is to give me a place to pile crap and make tea, but with the stomping of winter's icy foot, it's now the birthplace of the season's soups.
It's a space that would be much too small to use to cook with a group of people—or even just one other person. But it's just the right size for one gorilla to chop up some vegetables and dump them in a pot of water (well, my soup-making method is a bit more complex than that, but not by much). And at the table there's room for two to huddle on folding stools over steaming bowls of the best cure for winter I know.
A lot of people don't like cooking in their living wagons because they don't like being constantly enveloped in the smell of their lunches and dinners. I, on the other hand, love to open my door to the smell of onions, garlic, and simmering vegetables. It also means that you and your clothes smell like food all the time. But as the season's ode de perfume is wood smoke, I find the scents of garlic, onion, and curry, if not an improvement, a welcome change.
For those who'd like a look at the bigger picture, here is a photo of the entire kitchen space, in all its current, glorious chaos. Hanging stuff on the walls and from the ceiling is one of the best ways to organize your crap if you live in a really small space. The brown glass pots are for things like salt, garlic, and chili powder—that is, the spices that I use the most.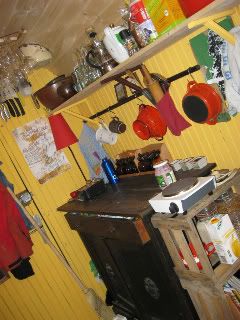 The electric hot plate is my cooking back up (or summer alternative to heating up water for tea on the wood stove), and just out of sight on the floor next to the broom is my "refrigerator." I still haven't gotten around to insulating the floor you see, and that is the spot on the floor furthest from the heat of the wood stove, and it keeps the dairy products perpetually cold.
Of all the kitchen things that you can see in that picture, only two of them were purchased new (if we do not include the food items): the broom and the white ceramic measuring cup. Everything else, and I really mean every single thing, I either bought at the flea market or found in the trash.
This post was a part of Simple Lives Thursdays at GNOWFLINS, Homestead Barn Hop at The Prairie Homestead, Monday Mania at The Healthy Home Economist, Real Food 101 at Ruth's Real Food, and Make Your Own! at Natural Family Awareness.