soup season: the grand finale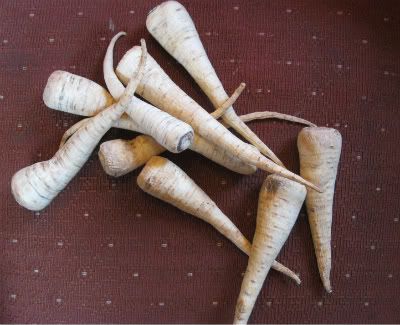 Yesterday evening I cooked what is likely to be the last wood stove-top soup of the season. The tulip heads in the garden are over an inch tall, and though the weather has taken a decided turn for the crisp, I can smell spring in the air.
In the last couple of years I've gotten out of the habit of cooking a lot—laziness, plus a realization of how good I feel when I eat a lot of fresh salads and raw vegetables, plus the fact that the Beard is an amazing (and frequent) cook having staid my enthusiasm—but when I do get to it, I approach the matter as if I'm a witch stirring potion in her many red cauldrons, a maker of alchemous elixirs whose ingredients fall from hand to pot from the lips of glass vessels of all shapes and sizes. Cooking is magic, and cooks are the witches and wizards we overlook in the real world, overlook because we have already closed the pages of our favorite science fiction and fantasy novels.
Though I love reading cook books (sweet inspiration!), when I cook I don't use recipes. Baking is another story, though in the case of baking I still like to modify recipes, and the handful of cookbooks I do own are filled with handwritten notes about additions, subtractions, and modifications. The way I approach it, cooking is a matter of general methods. It does not involve complications or exact details. And when I pass recipes along, they generally involve only vague measurements and a lot of tasting along the way.
In the matter of soups, I always start in the same way: a heap of onions simmering in oil sprinkled with salt. While the onions simmer I slowly add a heap of parsley root (pictured above) which is, in my humble opinion, the crux of getting a good flavor in your soup without using any sort of vegetable broth, powdered or otherwise. After that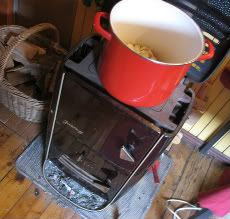 comes whatever I have on hand: broccoli, carrots, fennel—it's all fair game—which I simmer with the onions and parsley root until my patience runs out, at which point I add a couple of jugs full of water (depending, of course, on how many people I intend to feed over how many days).
At some point after that I'll add a heap of garlic, more salt, pepper, and whatever else fits with the vegetable combination I've picked out. Today it was a bit of coriander, a bit of cumin, a bit of chili, and a bit of tomato paste, as the goal was to have a red-ish three bean number at the end of all the sizzling, simmering, and bubbling. Though last week's corn-bread-baking bent (three loaves! mmmmmm) would have fit well with this concoction, today's draught was sided with a fresh salad and bread courtesy of the Gemüsemann (vegetable man) from our local vegetable market.
What's your secret to a good soup?
This post was a part of Fat Tuesday at Real Food Forager.