solutions for modern living
I took the season's first outdoor shower this week. In "the pirate's life for me" I might have mislead you into believing that we have no showers at all where I live, just champagne and bathtubs and dirt under our finger nails. We have those things too. But in the spring- time, we can stop showering at the gym and start showering outside, if you like that sort of thing. Showering, I mean.
Showering outside is one of those things that sounds like nothing special, or that maybe even sounds a little unpleasant. But then you actually do it and the birds are singing and the leaves on the maple tree above you are bright green and you sit outside in the sun to dry, and it just feels so good.
It goes something like this. Take a wooden pallet for the floor, build some walls out of some other stuff you found in the trash, and hang up a watering can and a curtain if you're shy. Then you can heat up some water, put it in the watering can, and there's your shower. Last year one of the showers (I think we have three) had a regular shower spout that you could attach the hose too. Those were the coldest showers I've ever taken. I didn't shower much that summer.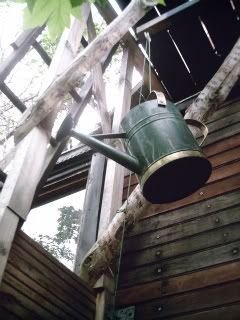 I've heard a lot of fancy stories about fancy solar showers. Black bags that you hang up in trees a few hours pre-shower to warm up in the sun. Then, BAM, open the valve and warm shower. But fancy solar contraptions always seem to cost a lot of money–part of the whole "green consumer trend" whose ultimate goal is not sustainable living, but higher sales figures–and people throw away watering cans and pallets and old curtains all the time.
We become conscious of our bodies during puberty and learn that we smell bad, learn that if we buy shampoo and soap and perfume and lotions and makeup and mouth wash, if we primp and brush and wash enough, then people will like us, that we won't have to feel embarrassed. So we learn to feel embarr- assed in the first place, and we read mag- azines devoted to teaching us how to cover up our smells and our hair and our flaws. They should be teaching us how to love our smells and our hair, that we have no flaws, that people smell like people for a reason, that people have hair for a reason.
I stopped wearing deodorant four years ago. The next year I stopped shaving my armpits. Then I stopped showering regularly, and now I don't even shave my legs (that was some seriously deep conditioning and it was really hard to get rid of, tell you what). Now I don't even use laundry detergent. You're probably going to laugh and point and call me a dirty hippy (yeah, you were probably already doing that), but I use "wash nuts"–put six nut shells in a bag in the washing machine and your clothes come out smelling like absolutely nothing at all. I don't want to smell like somebody else's idea of pleasant. I want to smell like me, and I don't really care if you like it. Actually, I do because smells are there to attract and repel us, so if you don't like they way I smell, you probably wouldn't have liked me anyway.
When I think about the people who shower every single day (and the fact that I used to be one of them), my mouth drops open. Where did I find the time? How many gallons of water was I washing down the drain every week? How many gallons of chemical soap shampoo shit did I rub into my pores? Wasn't my skin all dry and itchy all the time? (Oh, yeah, I bought lotions to take care of that.) I must have smelled awful. Of course now, that is what other people are saying about me.