second blight, second nature
First the spaghetti squash went, shriveling into a ghastly shadow of their former selves, and the tomatoes quickly followed. Was it the rain? Insects? Mold? Despair? Suicide?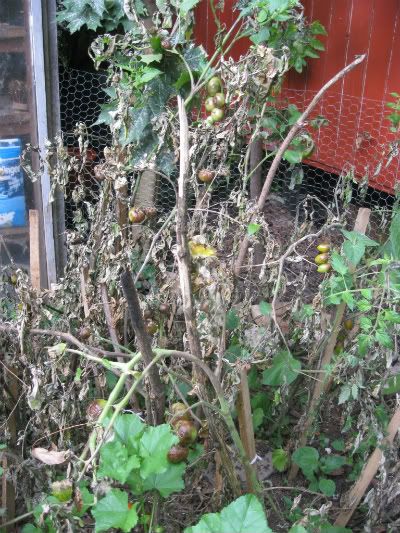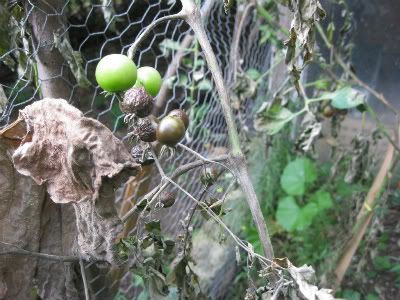 For anyone interested in helping me diagnose my plants, it happened like this: one morning I woke up and found all of the plants had wilted. There were brown blotches on the stems, and the fruits had turned hard and brown.
Just as the tomatoes went, I started reading Michael Pollan's book about gardening: Second Nature. I wasn't expecting it to be a page-turner—who expects any book about gardening to be a page turner?—but it really was. More than a gardening manual (though you might pick up a tip or two of you're paying careful attention), it is a philosophical workbook for those interested in tending vegetables, lawn, or forest.
With a section devoted to each season, Pollan examines questions about morality, metaphor, and culture as they relate to gardening. Fascinating questions, and I dare say, rather important. Between the questions about the appropriate level of intervention in a garden (or a park or a preserved forest) and musings on the stories trees have to tell us is the notion that humans should stop considering themselves as opposed to nature, as outside of it. Because, as Pollan often points out, if we are to find a way to preserve human life on this planet, we are going to need to develop an entirely new relationship to it, to learn to see ourselves as part of it and it as a part of us.
Second Nature is a book of questions and interesting conversation starters. Even if—or perhaps especially because—his style of gardening is so different than mine. For example, in a discussion of weeds, Pollan's list of adversaries mirrors almost exactly the list of plants I'd like to meet in the surrounding land. Though he at first attempts to let weeds live alongside what he's planted, when he comes to the conclusion that it is his responsibility to get rid of the weeds (in order to enrich the lives of the plants he has planted) he does so without ever even briefly mentioning (noticing?) how useful the plants he's decided to oust can be.
Later in the book, he plants an "ornamental herb garden" whose contents I see as anything but ornamental. And yet it does not seem to occur to him that he can actually use the plants whose appearance and scent so please him. But this is an intelligent man we are talking about, so maybe he (or his editor) just didn't feel like talking about harvesting rosemary and sage.
But reading Second Nature remained exciting, providing me with questions to chew on while I'm ripping the corpses of my tomatoes and squash out of my own small garden bed and hope for what will inevitably be a completely different season next year.
This post was a part of the Garden Life Series at No Ordinary Homestead.