sauerkraut patties will save your life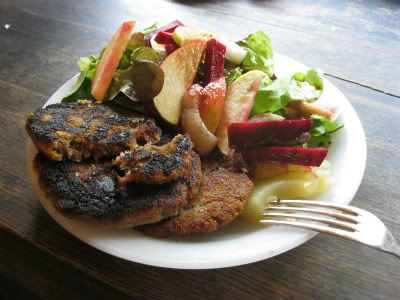 I learned how to make sauerkraut patties (essentially vegetarian burgers) from the lovely people down at Camp Mainusch. Soon I will use them to take over the world. Once properly aged (hardened) they also make good frisbees/hand grenades. This is also one of the most flexible recipes of all time, and every single one of the ingredients involved is incredibly cheap (plus the flexibility means you can use it to make use of whatever you have around). Once you get the basic idea there is no end to the patty flavors you will be able to make, and sauerkraut is one of the healthiest foods there is. These are instructions for my standard sauerkraut patty.
Ingredients:
>sauerkraut (one or two bags, yes you can purchase sauerkraut in bags, but probably not if you are in America, here in Germany a bag is about 40 cents)
>oats (the amount will depend on how much moisture you've got in your patty dough)
>a few pinches of the flour of your choice (optional, but can help with the consistency, I usually leave it out)
>salt/pepper/garlic/spices of choice
>onions (optional, despite their high super-hero factor)
>grated zucchini/carrots/other grate-able veggie (also optional)
>beans or whatever else you have around (lentils, sunflower seeds, quinoa, or crushed nuts all work well)
>your frying oil of choice
Instructions:
Fry the onions and the beans (if using) until the onions are browned and the beans softened. In a large bowl, combine the sauerkraut, grated veggies, onions, beans, and spices (salt, pepper, garlic, and curry paste, if you're me most of the time) with a few handfuls of oats. Keep adding oats and pinches of flour until the mixture reaches a consistency just sticky enough to form patties that do not fall apart in your hand. Heat up a generous amount of oil in a frying pan and fry patties until browned on both sides, adding oil as necessary. Wa-la! You are finished. Commence to gorge.
Disclaimer: The Beard and I attempted to make these in the United States, but could only find sauerkraut in a can, AND IT WAS AWFUL. So awful that we, dumpster divers both, actually threw away the whole bowl of dough and started again sans kraut. You have been warned. There ain't no kraut like Kraut kraut.
Further disclaimer: Sauerkraut patties will not actually save your life.
Do you have any patty-making recipe secrets?
This post was a part of Pennywise Platter at The Nourishing Gourmet, Fresh Bites Friday at Real Food Whole Health, Freaky Friday at Real Food Freaks, Farmgirl Friday at Dandelion House, Fight Back Friday at Food Renegade, Friday Potlcuk at Ekat's Kitchen, Your Green Resource at Live Renewed, Make Your Own Monday at Natural Family Awareness, Monday Mania at The Healthy Home Economist, Homestead Barn Hop at The Prairie Homestead, Midnight Mania Meatless Mondays, and Hearth and Soul Blog Hop at Penniless Parenting.