row row row your boat (summer babies)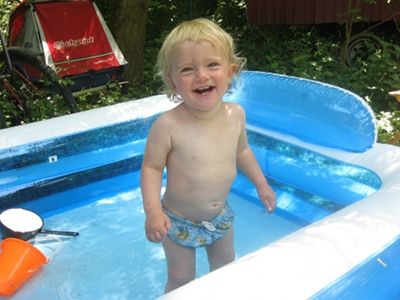 My father calls summer the season of forgetting. He's a teacher, so for him, it is the season of rest (or at least of work that he picks out himself).  In a way, it's our season of forgetting too.  Forgetting about how much work it can be to chop wood and maintain the wood stove.  About how annoying it can be to have to bundle up to walk to the kitchen or the bathroom.  But it is also a season for remembering: remembering why we love living the way we do, in this collective community on this absolutely beautiful bit of land.  You'd never guess that we were smack in the middle of one of Germany's biggest metropoli.
When the heat of summer finally hit, it was a shock.  After weeks of rain and chilly tempuratures, we rushed to the closet where the blow-up pool had been waiting, forlorn and losing all hope of seeing the sun this season.  I spent a dizzy morning blowing it up, the Beard bought an extra length of hose, and we set up Pickles' garden paradise in the yard.  She loves splashing around in there (and when it isn't hot, we turn it over and she loves bouncing around on it like it is some sort of blow up trampoline/bucking bronco), and one afternoon a friend and I spent a few hours sitting in it in all of our clothes. Because it was that hot.
Summer is also a good time for forgetting about diapers.  Pickles can run around outside in her birthday suit most days, though for a little protection I like to put her in a bathing suit bottom.  I've collected a handful of them from the flea markets for fifty cents, and they make an excellent quick-drying but breathable diaper alternative for outdoor summer shenanegins.  So I was pretty excited to hear that my cloth-diaper partners BabyKicks were coming out with a limited edition swim diaper.  Awwww.  (PS Just found out that some folks are giving some of these away, to celebrate their release onto the world.  If you're into that sort of thing, you can enter over here.)
I breifly harbored illusions of potty training Pickles in a flash of swim diapering and elimination communication and warm summer weather, but, well.  Turns out she's not quite ready, though she pulls off her diapers quite a lot (I'd been told this is a sign of readiness, but it turns out she just likes FKK) and is starting to tell me when her diaper is full.  We have set up a little potty inside, which she sometimes sits on, but never pees in and mostly uses to hide toys.
All that is to say that I have suddenly realized that I haven't got a clue about potty training.  Seems easy enough, but, umm, well.  Any tips from the veterans?