rock n' roll jesus
If you've been around here for a few years, you might remember my satirical German Christmas market report from 2008. No? Well The Christmas Market Gauntlet: A Guide to Dresden Christmas Markets is still sitting around, bored and lonelier than ever with the holidays on their way again, like the only one at the nursing home who isn't expecting to get any visitors come December.
In Germany at this time of year you can hardly walk out your front door without tripping over a Christmas market, and I have a love-hate relationship with them. That is, I hate crowds, kitsch, and excessive shopping habitats, and I love mulled wine and sparkly lights. So this year I figured, well, if you can't beat 'em, join 'em. And chug a glass of mulled wine while you're at it—it'll make the white flag that much more palatable.
So, it is in this spirit that I present to you a blog that I originally published on Young Germany on December 14, 2010. Formatted to fit your screen, and edited to include a more graphic, gorilla-like display of personal bias.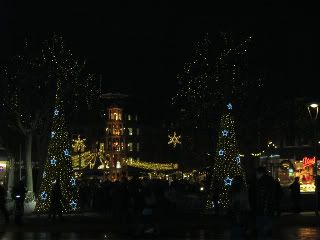 It's that time of year again: shoppers are out in hordes, white twinkle lights abound, and everybody who's anybody has something to say about the state of the weather—which in Germany in December would be a resounding "Brrrrrr." Tis the season to be freezing, but German cities have a solution to cold hands and feet, a tried-and-true formula for rosy-cheeked cheer, and an aesthetically pleasant way to hack off ye old Christmas shopping list: the Christmas Market. And be they tourist, transplant, or Teutonic, no one can seem to get enough.
As one loath to large crowds, I planned my annual Gluhwein (mulled wine) gluttony for a quiet weekday afternoon. During Christmas market "rush hour" you'll have to push your way to the front of the mulled wine stand and pray you make it back through the thirsty throngs without emptying your glass on someone's wool coat. On weekday afternoons and evenings, however, a stroll through the aisles of the rustically decorated gift and food vendors can proceed at your leisure and without the sardine-effect typical of a Christmas market on a Saturday afternoon.
The Mainz Christmas market is gated by two red-and-gold be-speckled Christmas trees, and over the gate an 11-meter Weihnachtspyramid (Christmas pyramid) holds watch over those coming and going from the market entrance. Just beyond them you'll find the shining star of the market's mulled wine vendors. Though slightly more expensive than others at the market (but only by fifty cents), this stand sells mulled wine made from local organic wines with the choice of an additional shot of fruit schnapps to give your holiday cheer that extra rosy glow. Not quite as syrupy sweet as the mulled wine at other stands, it's my personal favorite. Of course, the authentic cheapskate would have bought his or her mulled wine for 3 euros at the grocery store, heated it up at home, and brought it along in a thermos: a tactic with the happy side of effect of eliminating the need for a visit to the market all together.
Once your thirst has been satiated (if only temporarily), it's time to peruse the wide selection of snacks available in a bag, on a stick, deep-fried, covered in powdered sugar, and slow-roasted over an oak fire. There are yard-long licorice whips, balls of deep fried dough with six different dipping sauces; there are sausages, schnitzel, and, of course, chestnuts roasting on an open fire. You'll find row after row of brightly colored sweets, iced baked goods, and enough sugar to ensure the continued employment of the entire nation's dentists.
The fatty foods and the abundant supply of wine grease—sometimes quite literally—the wheels for kaufen (buying). For that is the main purpose of the Christmas market: buy yourself a mulled wine, buy yourself a sausage, and then buy all the stocking stuffers you need ("need") for your friends, family, and colleagues. If everything goes according to plan, you'll be too drunk to notice how quickly your wallet is emptying.
While Christmas markets are certainly a better backdrop for the year's mandatory holiday shopping than the sterile corporate bubbles of shopping malls and chain stores, they remain identical in intent. As well-dressed as Christmas in Germany may be, here too it is a holiday centered around the exchange of money for goods, erhm, gifts. Take the "shop" out of the Christmas market, and you'd be left with a few lonely strings of light and a lost looking man in red carrying an empty bag.
Author's note
This year's visit to the Christmas market was made exponentially funnier by the presence of rock n' roll Jesus in the hand-carved, life-sized nativity scene set up in front of the cathedral (look at his right hand). Party on Wayne.