right about now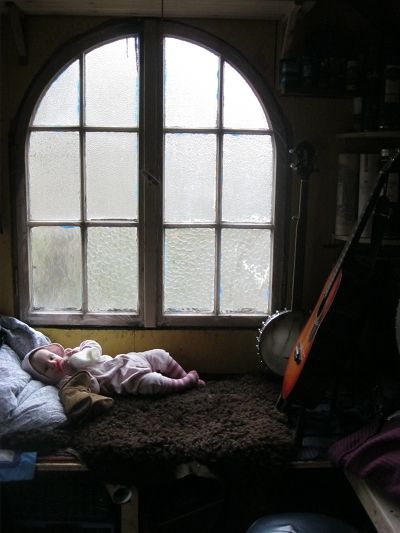 Babies in Bauwägen.  Oh flutter my heart!  If only I was as photogenic as Baby Pickles or that window.
Life trickles onward, and my days are filling up, moving faster.  On Fridays there is the English-speaking playgroup where I am getting to know more and more awesome local parents, and as of Monday two and a half eight-hour blocks of time will disappear into the grey-ish room where I spending my working days.  It is exciting and daunting, but mostly exciting.  It is easy to be excited about going back to work, but hard to stay excited once you're there.
This morning someone asked me how I liked being back in Frankfurt this time, having lived here before.  The answer is that it is different. Very different. But I do still like it here, though I wish I had a baby-friendly bike situation figured. (We have a two-kid bike trailer. When Baby Pickles is in it she spends most of her time screaming. It is very painful for everyone involved, and we only use it when absolutely necessary.  Soon we will have one of this sort
, which will hopefully solve all my baby-bike problems.)
The Wagen renovation looms nearer, and it turns out that the Beard and I don't have even remotely the same vision for our Frankensteined dwelling.  He wants a roofed porch to connect our Wägen, I want a walled/roofed/insulated/usable room to connect them.  The difference isn't huge, and we'll land somewhere between, but I still have no idea where that is or what it looks like.  I find big compromises when it comes to my living space utterly soul wrenching, but it is good practice in consensus decision making at the very least.
The fake winter that has been hanging out since November is being replaced by real winter.  At this point it almost feels absurd.  Shouldn't it be spring now?  And winter is just really arriving?  Damn it.  At least the frozen ground will mean being able to get our new Wagen moved over here all the sooner.