ribbet ribbet: on tour with the froggy mountain boys
I have to chuckle when I think of it now: in the time it would take me to drive across New Jersey, I could be in Holland.  Shit, in a plane, in about the time it takes to watch an episode of Dexter, I could be just about fucking anywhere.  Well, not in Brazil, but, you know.  There is so much to see within such a short distance these days, and, me, I barely go anywhere.  Good thing there's tour to kick my ass out of the house and into a few other cities (and countries).
Every time we are on tour—even when it is just for a couple of days—I am never quite certain.  Do I love it?  Do I hate it?  You'd think those wouldn't be two emotions that were so hard to tell apart.  At the beginning the new rhythm is uncomfortable: Less sleep, constant newness and moving and resettling, mustering up lots of stage energy at exactly the time when I would usually be putting on sweatpants and falling into bed, little time to write or read.  But after a few days the rhythm starts to feel familiar, and it starts to feel like we must have always been on the road, that there never was anything else except days in vans and people cooking you amazing dinners and breakfasts and venues and music and stages.  For the first time since Baby Pickles was born, I haven't done laundry in five days.  Or cooked anything.  How bad can it really be?  Travel is awesome, right?
And yet, music-making travel is vastly different from any other kind of traveling I have ever done.  In the usual sense, travel is a way of expanding your world.  You meet new people, wander foreign streets, eat things you've never even heard of before.  You absorb the life of the world around you, and you become bigger for all the newness forcing its way inside your head.  Band touring has its elements of expansion as well—new people and food and places are still a part of the deal—and yet you find your world shrinking.  Instead of digesting new worlds, you find yourself in a microcosm.  There is the inside of the van, the venue, and the place where you will sleep.  There are cities outside of the van window, and you might even take a walk around the neighborhood where you will be playing.  But more often you don't, more often you lay down on a couch in the venue so that you can keep it together on less sleep later, and you find that your world has shrunk to the size of the venue, the space around your seat in the car, and the stage you find yourself on each night.
With a world the size of a van seat and a music venue, the atmosphere in each becomes hugely important.  Though I can't recall ever playing a venue I hated, there have been nights that felt less comfortable than others.  But this trip around I felt good at every stop we made.  Of course, I also left early every night to get the babe and I into bed in time to avoid complete sleep-deprivation-zombie-melt-down, but besides a very small turn out in Karlsruhe, every night went pretty damn well.
In Frankfurt we played Cafe ExZess, a versatile autonomous space with an infoladen/lending library, bar, and theater with a tap dancing trio.  In Mainz we played an on-campus restaurant called Baron with some very fine pizza and my favorite alcohol-free beer (Erdinger!  Mmmm).  In Solingen—another city I had never visited before and that was absolutely gorgeous with slate-sided houses in the middle of a lot of forest—we played a tiny, adorable Irish pub called Tom Bombadil.  Not only did they serve Guinness (oh sweet sweet victory), but I got to meet Moonwaves!  Wohoo!  In Holland we met up with old friends at Baklust in the Hague (organic, vegetarian cafe that I demand you visit immediately if you are in town) and Vrankrijk in Amsterdam (one of the oldest squats in Holland, rumor has it).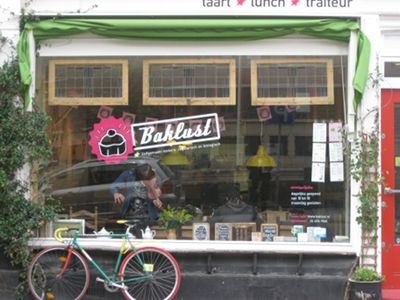 This tour was one of the smoothest we've been on yet.  The venues were all pleasant, the drives were all short, the sleeping arrangements were all fantastic (people take really good care of you when you are traveling with a baby), and the food was all fucking amazing.  During our last tour, I was newly pregnant and dealing with a fuck-all case of morning sickness.  I was constantly hungry, but could barely eat.  Not that it mattered much, since all but one show organizer had served us chili, the last thing you want to eat when your stomach is a wreck and you're going to be spending all day in an enclosed space with four other people who've got a pile of tomatoes and beans in their digestive tracks too.  When I did manage to eat, I would jokingly tell my food, "I'll see you again later."  Though I am still too traumatized to ever want chili again, the lack of both puking and chili made me really fucking happy this time around.
And of course, The Froggy Mountain Boys.  Being on tour with another band, particularly a band who are really fucking good, is loads of fun.  Spending seven days with five people who you've never met, well, that sounded like a potential disaster.  But we all got along just fine, and a few of the Froggies were really good with Baby Pickles, which was helpful since we didn't have any room in the van for an extra babysitter.  (I'm going to go on about touring with a baby in more detail on Monday.)  We tend to get put on a lot of punk bills (not that our music remotely fits in that context, but our attitude and message do) or play with local singer/songwriters.  It was fucking brilliant to know that every night would end with a swinging Froggy performance.  I have woken up with a song of theirs stuck in my head every night since we left.  Encore encore!
All of the pictures in this post were taken in Baklust in the Hague, Holland. The first two are © Bertus Gerssen fotografie 2012, the second two (cc) Click Clack Gorilla. The art visible on the wall in the final picture is Unfinished Business.  I'm thinking about getting one of the pictures on the left there tattooed on my arm.  Huzzah!