recycling for the apocalypse: the bottle fence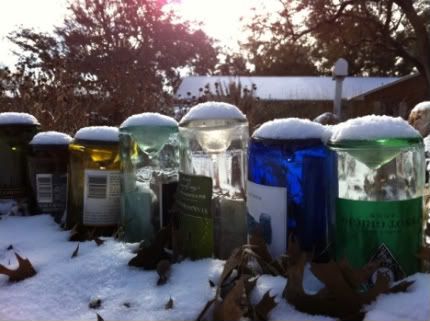 My first thought when I saw this photo could be visualized in the form of a very large black exclamation point. Then, returning to the English language, I thought: well, shit, why didn't I think of that?
The picture arrived in an e-mail from blogger Nim of Nimcraft: Geekcrafting and Ueberdorking, who said: "This is nothing new to the world, but I pounded bottles into the ground to form flowerbed-esque borders and also to line walkways." New or not, I was impressed, and rushed off to Click Clack Gorilla in my recycling for the apocalypse superhero cape to share the idea with you.
I asked Nim to tell me more about the process of collecting the bottles and putting them in the ground. "It took about a summer to collect the bottles," Nim said, "But I got a whole army of drunkards to help."
"I started out saving beer bottles, but here in the States they make them way too flimsy (in the 6-pack sizes. Once you get up to larger sizes, the glass gets thicker, like wine bottles). That plus the hard ground made for a lot of broken shards I had to dig out with a spade. I switched to wine and liquor bottles only (and softer ground) and it made all the difference in the world."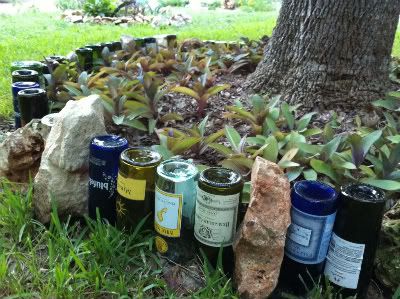 "Around my tree I think it took about two dozen wine bottles, if memory serves. The ring is about two meters in diameter. However, the bottles are spaced with rocks, since many a root came into my way. I put the rocks in the spaces the roots caused and called it done.
"A word of caution: if your soil is baked and hard (I live in Texas), wait for a rain or give the ground a good soak before proceeding. I used a rubber mallet to hammer the bottles in, but watch out for pinching the skin of your bottle-holding hand under the hammer. Free tips, those!"
This idea couldn't have landed on my doorstep at a better time. The same morning that I heard from Nim, I had been gazing out my window at the patch of ground that will become my garden come spring, and wondering if I would be able to find enough bricks laying around to make a little mini fence around the beds. Looks like it's time to start collecting bottles and soaking off labels.
Have any of you tried this before?