recycling for the apocalypse: shower bed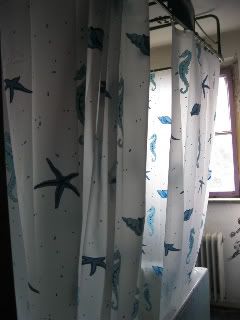 Recycling for the apocalypse is something like recycling for mad scientists. It's been called "upcycling" and it's been called "extreme recycling," but the punchline remains the same: reinventing items in unexpected ways otherwise destined for the trash. You've seen old kitchen bits turned into wood stove bits and old bike wheels turned into chandeliers. And today I present to you: the shower bed.
The house at the front of our Wagenplatz has a bathroom in it, but in my time here it has never been hooked up. Several weeks ago a few folks, tired of having to visit their friends' apartments to shower, re-attached the shower to the water line. The boiler is ancient and the water is pretty cold, but the shower runs.
But there was a problem. The tub no longer had a curtain around it, and any sign of a shower curtain rod was long gone. Several of us watched from one of the kitchen trailers as two of the folks we live with examined the scrap metal pile. Eventually they selected a metal folding bed and carted it off. When they carried it past the kitchen window a second time, the metal netting that had previously supported a mattress had been cut off, and now the frame hangs above the tub, a perfectly shaped shower curtain holder: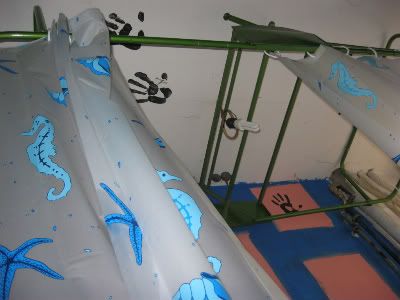 It might be a bit hard to make out in this small of a photo (and without having seen the bed in its original state), but the bed frame is hung upside down from the ceiling, the single-mattress-sized metal frame providing the track for the shower curtain.
Calling all mad scientists…
I'd love to make "Recycling for the Apocalypse" into a weekly post, but I need your help. Have you reinvented any objects that had outlived their original uses into solutions for other projects in your home? Send me pictures and stories of your up-cycling, extreme recycling, and mad scientist-esque projects, and I will share your glorious inventions with the Click Clack Gorilla world. E-mail submissions to nicolettekyle (AT) yahoo (DOT) com.