recycling for the apocalypse: sheds
The identity of an object is malleable.  When we throw an item away because it has outlived it's function, we are often sending resources to an early death out of a lack of creativity—or sometimes because of a lack of space in which we can store old objects for the time when the form of their reincarnation becomes clear. Old clothing that could have been remade or used to patch other worn clothing, a table top that could become a wall (or firewood), or tins that you screw to the ceiling to protect it from the heat of the candles you use to light the room are just a few examples.
If you don't have a big shed to store all the bits of furniture and building supplies you find in the trash, you're not going to have them when you wake up one morning and realize you'd like to build a house/chicken coop/shed on a budget of nothing.  In this light hoarding isn't always a negative character trait (have you seen that show?  jeebus).  In this light decluttering isn't always the road to "living simply."  But those are subjects for another day, one that includes many, many more words than I care to type right now.  Today I just want to ogle some sheds.
I heart sheds.  I heart sheds because I'm a hoarder.  And I'm a hoarder because I forage (in the garbage, in the woods, etc).  When you forage (as opposed to purchasing things at your local chain store), stock piling to some extent is essential.  Whereas you can walk into the building supply store anytime and find exactly what you need, you usually can't just walk outside and find all the (dry) firewood and food you need (especially during the winter), let alone the building supplies you'd like (or clothes, or kitchen gadgets, etc).  There's nothing that doesn't end up in the trash eventually, but it doesn't always land there on your schedule.  So when you find lumber or antique glass door handles or a bag full of screws, you need to take them, and you need to have a place to store them until the right project (or a neighbor in need) comes along.  And that's where a good shed comes in handy. That is not to say that I think it's a good idea to buy a McMansion so you can save everything that crosses your path. But there is a time and a place for hoarding.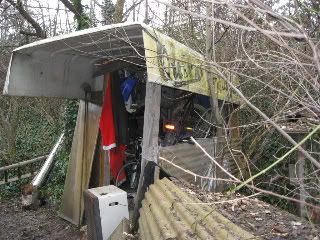 This first shed was built out of an ancient pick-up truck cap and some scrap wood.  For the longest time I thought that the roof was an old row boat, but when I went to photograph it for this post, I realized I had been mistaken.  But using an old boat as a shed roof is just as inspired, just as gorgeously apocalyptic.  (I am such a sucker for the apocalyptic aesthetic.)  There's one laying next to our living room trailer.  If only I hadn't already built Frankenshed.
When I moved my wagon to its current resting place, my first project was to build a set of sheds for my firewood.  As luck would have it, several days before we had hauled two trailer loads of old wooden crates (tossed by the university anthropology department—one still contained a strange-looking tooth) back from the university trash corral.  I took them apart, gathered some pallets together, and Frankenshed was born: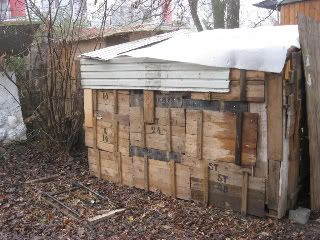 Frankenshed's pretty behind. Hats off to the anthro department, who I hope didn't toss these crates in favor of things made of plastic.

The left shed from the inside.
While I'm on the subject of sheds, take a look at a few of the other variations some of my neighbors have constructed: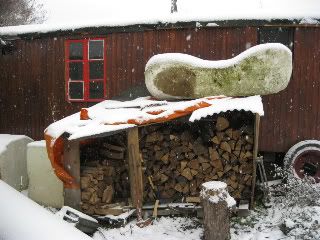 The big bit of Styrofoam on the top of this wood shed was carved out of a dumpster find as a birthday present for one of my neighbors. Behold, the sausage recliner!

Note the blue shopping cart chariot in front of this close-walled number. An easy-to-move chair for summer sitting, complete with cup holder, room for a case of beer, and a sunbrella that's currently hibernating inside.

Behind this tiny shed you can see one of our outdoor showers.

This construction uses a metal container (the office of a plumbing company) as its back wall.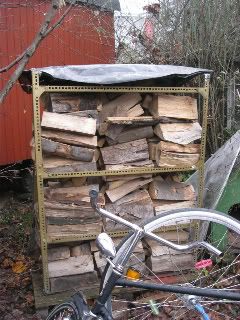 A very simple wood storage construction made of a scavenged metal shelving unit and an old car hood.