real food and pregnancy: a day in the life
Food has gotten complicated in the last fifty years. Additives and chemicals and by-products have slipped into much of our food supply without notice and with a number of side effects that don't seem to be working out well for our health. But however you eat, whatever you eat, whether you are vegan or vegetarian, into macrobiotic or into GAPS, into eating locally or organically or consider yourself a real foodie, I believe that the most important element of our food choices is consciousness. Putting some thought into what we eat and learning to listen and respond to our bodies is always a good idea.
I was a health-conscious eater before getting pregnant, and Peanut has only exacerbated the tendency. And yet there are still days when I am too tired to cook more than a bowl of ramen. This made me feel guilty at first. How could I eat such packaged crap that barely deserves the name "food"!?! How could I know what I know about packaged crap food and still eat it?! And while pregnant??!! But sometimes exhaustion wins out over perfect nutrition and just managing to get by is enough. When I realized that despite the occasional ramen lunch or frozen cannelloni dinner I eat pretty damn well, I managed to let go of that guilt. Perfectionism is over-rated.
As many of you have landed at Click Clack Gorilla through real food blogs, I wanted to have a conversation about real food and pregnancy and to share a fairly successful real food day in the life. A warning and an apology to all my vegan and vegetarian readers—this post contains a lot of dairy and meat—though I have to admit it's not emblematic of my eating habits at the moment, but rather during my second trimester. These days I only find myself craving meat once or twice a week, and instead have been chugging milk like I'm getting paid for it. I generally feel my best when I'm eating heaps of vegetables, both raw and cooked, and I seem to be back in that pattern now.
keeping it real: pregnant and hungry
Breakfast: Oats, sunflower seeds, and grapes in raw milk, with a glass of raw milk on the side. (Now in the third trimester, I'm up to a liter of milk a day. Whoa.) Real food faux pa: Hardcore raw foodies soak (or sprout) grains before eating, if they don't cut them out of their diets completely, because of the phytates and enzyme inhibitors present in them. Soaking grains (and legumes) beforehand is said to maximize their nutritional value. With variations in the fruit, this is my staple breakfast.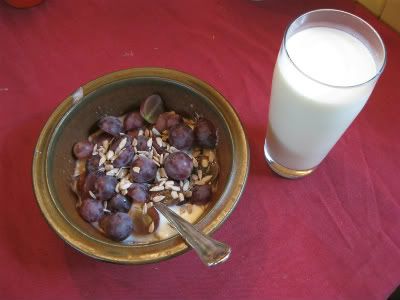 Lunch: This is one of my favorite "fast food" meals: Savoy cabbage, bacon, and eggs, all cooked in bacon fat with a little butter. During my second trimester I craved meat constantly, and I satisfied the urge, more often than not, with bacon, it being so quick and easy to prepare.

Late afternoon snack: I love onions. I love them so much that I have one tattooed on my leg. And I love this variation on spring onions best of all, when it comes to a side dish or an afternoon snack. Preparation is easy: cut off onion roots and any dead leaves, place them in a hot pan with a thick layer of olive oil, brown them, add a few splashes of water and brown them some more. Sprinkle in a bit of salt and pepper to taste and mmmmmmmm.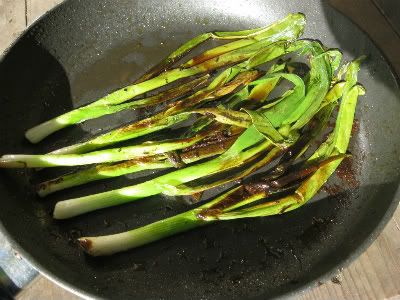 Dinner: After onions, savoy cabbage may be my favorite vegetable. Beside it I have an ear of corn and a salmon filet baked beneath a heap of onions, butter, garlic, and a dash of soy sauce. (Though I believe soy sauce is probably another real food faux pa.)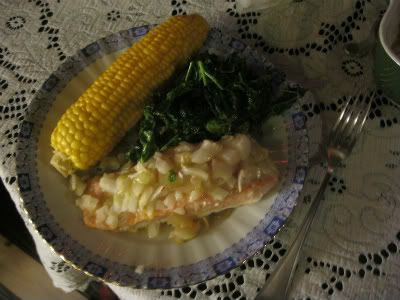 And a cob snail for dessert. 🙂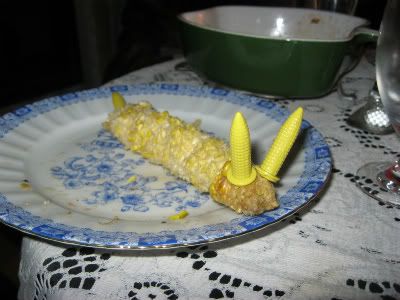 What have your pregnancy diets looked like? Any easy real food suggestions for the expecting?
This post was featured on Monday Mania at The Healthy Home Economist, Real Food 101 at Ruth's Real Food, Make Your Own! Monday at Nourishing Treasures, Fat Tuesday at Real Food Forager, Healthy 2Day at the Humbled Homemaker, and Works for Me Wednesday at We Are That Family.