put on some rabbit ears and dance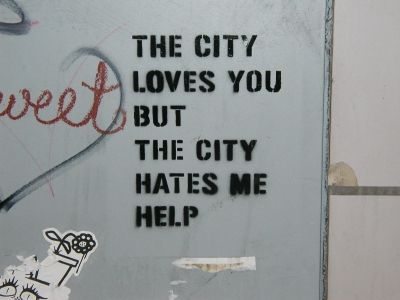 Yep, I'm the asshole who still hasn't managed to take photos of the fucking awesome kitchen I keep promising pictures of.  But hey, look at this picture I took of Frankfurt graffiti when I first moved here a hundred years ago! (Nine.)  I've always liked that one.  While poking around for pictures of Germany I could use for work, I (re)discovered a lot of old gems.  Which I also won't be sharing because the Beard is in them, and he doesn't much like having his picture on the internets.  We were so young!  We were so carefree!  Look, we're drinking beer!  We are sitting still in the sun!  We are having fun!  Aaaah, the good old days.
Fast forward to now where I feel like I am just one big bag under the eye.  Getting woken up two to three times a night for the past two years has started to wear on me.  I feel like I wake up with a new wrinkle every morning.  In reality, I don't have any real wrinkles yet, but I just feel wrinkled.  You do what you have to do and you get by, but cod damn when will we be allowed to sleep through the fucking night?  When when when?! *Shakes fist at sky and snarls.*
We're getting Pickles off of her nighttime milk addiction at the moment, which has been SO MUCH FUN.  Ha!  Hahahahahaha!  The idea is that she might actually start sleeping through the night sometime before her 18th birthday.  That we might get to sleep through the night before we reach a mental state where murder doesn't sound like such a practical solution.  At least in prison we'd get to sleep through the night!  Ba-da-bing!  *Weeps.*
But I hyperbolize.  There have been some cod-awful nights lately, and we've all been much worse for wear.  Except for Pickles, who is still full of energy and wants to spend every second of the day running in circles outside, who doesn't nap for me anymore (but does for the Beard, though I like when she doesn't nap because then she goes to bed deliciously early, even though it means she is nutso for the last two hours of the day).  Still, spring weather has arrived, which feels wonderful, we built a little porch, and I'm putting in an herb garden.  And Pickles finally has parents willing to spend every minute outside with her all day every day.
I think things are about to get really awesome.  She'll sleep through the night, we'll move her into her own bed, she'll go to the daycare whatever a few days a week (we're looking for some of that for her right now because she talks about wanting to play with other kids so much), and our humanity will be returned to us, unused this past year, in a neat little package.