preparing for winter, the diy run down
I say I'm preparing for the move, but you don't need to paint your house before you move.  What I'm really preparing for is the coming winter.  It's been two years since I last coated the siding on my Wagen, and seeing that most of the boards were meant for indoors (ie not particularly thick), it was high time I got on to the job of applying some paint.
the once-a-ceiling-now-an-outdoor-wall siding was well and good but…
The back narrow side of my Wagen was the last that I attached siding to, the very last step in getting it completely finished, fucking finally.  If memory serves, and it often doesn't, I didn't even put on the last boards.  Frau Doktor and Scissors did, a favor to me, while the Beard and I were off gallavanting in America.  The boards I used had once been the ceiling in another Wagen.  The owner was sick and tired of them, and so he replaced them, and I gobbled up the scraps.  It looked like this:
The boards worked well enough, but in my mind they were a temporary solution. Tongue-and-groove boards all, at least half were broken. And a tongue-and-groove board without a tongue isn't so good at keep water out of your walls. I overlapped them haphazardly and called it a day. And having now opened the wall two years later, I can say that they were a perfectly satisfactory solution. Would have held for years to come. But I wanted to get something I didn't think of as temporary on the wall, something that looked beautiful and would hold all of the rain out, always.  After a day and a half of work (not consecutive, though that is irrelevant I suppose) it looked like this:
Sweet, sweet high-quality materials. These boards are twice as thick as those meant for indoor work, and they should last a good deal longer. High five. Then, the painting, which I am still working on, began. I was going for dark purple, and what I got was a lot brighter than I intended. But it has grown on me to the point where I walk by my Wagen even when I don't really need to, just so I can get another eyefull. This is what it looked like two coats ago, and once I get the black trim done, it is going to look AMAZING.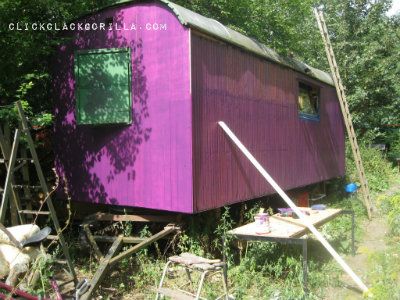 winter is coming
Once the paint job is done and the trim is up (the roof gets secured to the trim along the top of the outer wall to keep further water out of the walls), there won't be much left to do to prepare my tiny house for winter. The rain gutters need to be cleaned, and, once we move, the rain collection barrels set up. I'll clean out my wood stove pipe with a long metal pipe cleaner brush, and that will be that. Before I know it another winter will be upon me, and I will have to work to remember how I missed those cold tempuratures during the last week's brutal heat wave.
Doing house repairs tends to make me philosophical about the way I've chosen to live. As I put each coat onto my little house, I think about how much more work it would be to do a coat of paint on an average-sized house. How much all those buckets of paint would cost, and how much sweat would be lost applying them. Would I even be able to handle diy-ing your average-sized house? Not with joy anyway. Tiny houses win by a landslide.