peter lustig: germany's most famous tiny house dweller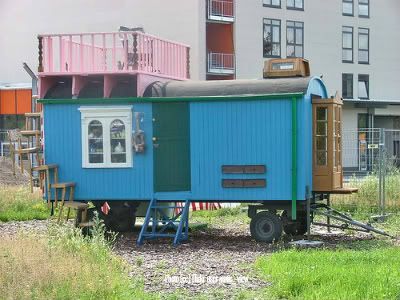 So you moved to Germany. It took you a while, but you mastered the language. You understand all the words that your friends are saying, but you still don't understand half of what they say; because you didn't grow up in Germany, when people start talking pop culture nostalgia, you don't have a fucking clue.  When you were a kid (you being me, growing up in the United States) you watched Sesame Street, The Smurfs, and Rainbow Bright.  And so did they.  (Though they called them Sesam Straße, Die Schlümpfe, and Regina Regenbogen.)  But they also watched Sandmännchen, Sendung mit der Maus, and Löwenzahn.  (Say what?)  Which brings us to Peter Lustig.
Peter Lustig is probably Germany's most famous (fictional) Bauwagen dweller, made famous by his role as moderator on the children's show Löwenzahn, an educational number where Peter, more or less, explains how the world works in 25 years of episodes.  He's Germany's answer to America's Mr. Rogers.
In the very first episode (which you can watch in three parts, here, here and here) Peter trades in his house for a Bauwagen (being pissed at the noise caused by a new airport and after discovering that the usual travel trailers are inflexible, too small, and too expensive), which he buys from a building company, parks in his friend's Schrebergarten—a rented garden plot, where, I might add, it is actually illegal to live full time, though I do know some people who do it—then fixes up using scavenged materials.  As if that didn't make the show interesting enough, Lustig ends every episode with a direct look in the camera and instructions for kids to turn off their televisions and go outside.  Even the opening sequence is full of radical imagery: a dandelion (dandelion=löwenzahn) growing up through a crack in the pavement, a saw cutting into a television.
Of course, for the English speakers reading, the most interesting thing about Peter Lustig is probably his Bauwagen.  Which is why I wanted to share a few pictures of it with you here.  It is currently sitting in the Babelsberg Film Studio Lot, where folks touring the studios can get a good look.  I love the old-chair stairs (visible in the photo above), and I've had fantasies about a similar roof terrace as well.  I haven't watched much of the show myself, but what I have seen has been full of interesting ideas for re-purposing household objects for Bauwagen and tiny house living.  I wouldn't be surprised if Peter Lustig was personally responsible for the existence of a large number of Bauwagen-dwelling adults in Germany today.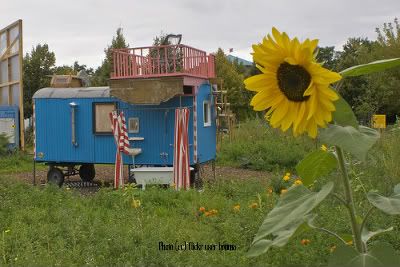 Episode two, Ein neues Zuhause (A New Home), finds Peter trying to figure out how to make such a tiny living space work for him.  The neighborhood kids come by to tell him his house is too small, and he tells them about all the folks around the world who live in tiny houses.  (Watch it here.)  If they can do it, so can he.  (And this in the early 80s, long before the "tiny house movement" began to roll.)  If you want a tour of his Wagen, almost finished, as of the second episode, click here and start at 0:45.  You'll see the chair steps, a toilet in an armoir, a carpet used as an awning, a glass cabinet as a bay window, and a number of other "lustig" innovations (hardeeharharhar, "lustig" means "funny" in German, fyi).
Funnier yet is what the Beard told me about Peter Lustig this morning.  At the end of his 25-year career as moderator for the popular children's show (today the show has a new moderator), Lustig admitted to interviewers that he can't actually stand children.  Fans everywhere were horrified.  "Children should watch the show and have their fun, but I don't like having them around me.  Like all adults, I am of the opinion that children are sticky or disruptive or loud.  I'm no fan of children, that's a misunderstanding."  I was amused.  What irony!  You can't expect an actor playing a part to be the part he's playing in real life, after all.  But whatever he thinks about children, at least he had a pretty neat Wagen.
Photos (cc) static_view (top) and honma (bottom)