people of st. ingbert! people of bingen!
Chugga chugga chugga, the Black Diamond Express Train to Hell is on it's way.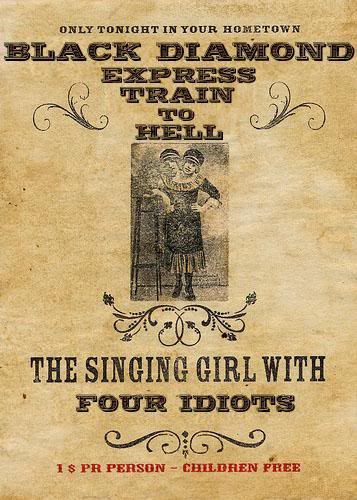 December 9 // St. Ingebert JUZ
December 10 // House Show in Bingen
If you're interested in attending the Bingen show, it's open to the public, but I didn't want to post the address here. So leave me a comment with your email address, and I will send you the address. And for those of you who don't already know, Black Diamond Express Train to Hell is the band in which I warble.
Pretty please everyone cross their fingers that my cold is gone before show time. Or at least the part of the cold that has my throat scratching and my ears feeling stuffy. Singing harmonies when you can't hear very well is always the wrong thing to do.
In the meantime, I'm fascinated at the thought of performing while prego. I have never seen a pregnant lady on stage. Though this probably has a lot to do with the fact that pregnancy is only a nine month shebang, out of which only four or five make your condition obvious, the thought strikes me as being strange. Like, get more pregnant ladies on stage! Then again, if it fits into your schedule, why not fit in a half year break when you're round and burly and incapable of standing for long periods of time? Makes just as much sense as business as usual. But I'm still really curious, have any of you ever seen a pregnant lady on stage? Because maybe it's just a coincidence that I see a lot of cock rock. Also: I'm taking bets on how many times I knock the microphone over with my stomach.