people of bingen, cologne, and düsseldorf!
Gorilla songs! Whiskey! Bar fights! Good conversation! Self-produced CDs and cassette tapes! Household appliances turned into instruments!
We (we=Black Diamond Express Train to Hell) are going on an itsy bitsy weekend tour, and I've gone and broken out six years' worth of exclamation points just to tell you about it.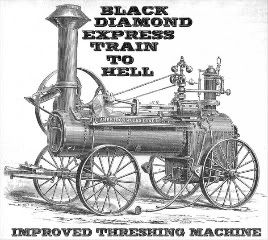 Friday, August 13th: Keine Wut mehr? Festival, JUZ Bingen. One lonesome country blues band in a sea of asi Deutsch punk and sludge and who the hell knows what else. What time will we play? Will we will chased from the building with molitov cocktails? Or will whiskey save strained human relations once again? There's only one way to find out.
Saturday, August 14th: Venloerstrassenfest II Qlosterstuffe, Cologne. Rumor has it that we'll be playing at 6 pm sharp.
Sunday, August 15th: Vokü @ the Bauwagenplatz, Düsseldorf. Cheap and delicious vegan food, cheap and delicious country music.
Between shows we'll be lurking the streets, playing music, and pressing our donation hat in your general direction.
At the end of the month, just before the Beard and I run off to America for a few months, we'll be playing the Wiesbaden Folklore Festival (August 28th), and if you miss that you're going to have to wait three whole months before you get another chance to see us play…